So I have this recipe called The New Italian Pasta Salad, and it's my favorite thing ever. So why this easy Italian Pasta Salad?
Well, I also had some of you complain about the arugula, and the lack of deli meat, begging me to come up with a salad that's a) not gross but b) a little more traditional.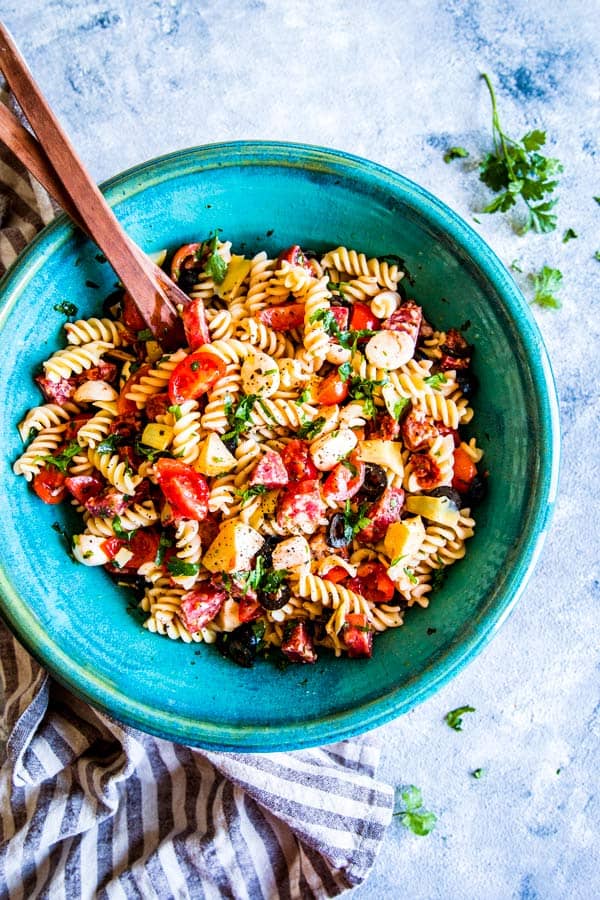 And I think I have nailed it.
Besides my Greek Pasta Salad and my creamy Bacon Ranch Pasta Salad, this is a wonderful side dish to bring to all your potlucks and BBQ parties this summer.
It's filled with delicious things such as salami, olives, artichoke hearts and sun-dried tomatoes.
If you're going to make this for kids, make sure you're not buying a spicy salami. When I tried this salad for the first time, I just picked a salami that looked artisan and delicious at the store (because food snobbery).
It made my 4 year old cry so hard.
Moral of the story: Make sure your salami isn't going to induce fire spitting. And better try it before giving any of it to your kids, just to be safe.
Pasta salads in general are a very simple thing to put together, so I'm going to avoid blabbing on and on about this one.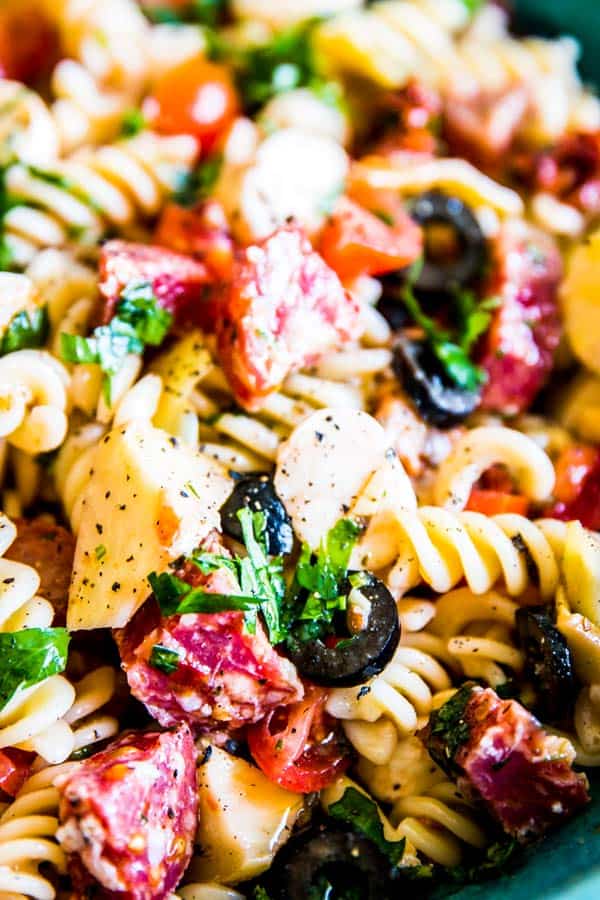 Instead will just give you a few tips to make sure your Italian pasta salad turns out amazingly:
cook the pasta just al dente: Since the pasta will keep softening as it cools, and you will let it cool all the way, it will end up more cooked than when you stop boiling it. And it will also soak up some of the dressing, turning softer once more. So, don't overcook your pasta, or you will end up with a mushy and gross salad.
mix while warm: make sure to let the pasta cool just enough so it's not piping hot anymore. The flavors mingle and combine way better if the pasta is warm when you toss the salad together!
don't skip the chilling: this pasta salad really does benefit from at least an hour in the fridge. The flavors develop, the salad gets cold and it just gets better all over.
Which pasta shape to use:
You can use whatever short pasta shape you have on hand.
I would avoid overly large tubular pasta (think rigatoni), because they get hard to eat in a relaxed picnic setting.
My favorites are rotini and bow ties, or more artisan shapes like torchiette (I used these in the New Italian Pasta Salad I linked above!) and orecchiette (look them up if you don't know them, they are pretty cute).
Which sausage to use:
Classic salami is obviously a great choice. I just bought an entire one and sliced it into bite-sized chunks, making sure it wasn't too aged and hard.
Summer sausage would also be delicious. And I guess pepperoni would work if you can't find anything else.
Which dressing?
I'm making my own Italian dressing. It's the easiest thing ever!
But if you feel like that's too much work, or you just happen to have a bottle of Italian dressing in the fridge, be your own guest and use that.
I can guarantee you it's more delicious with homemade dressing though. You are operating at your own tastebuds' risk.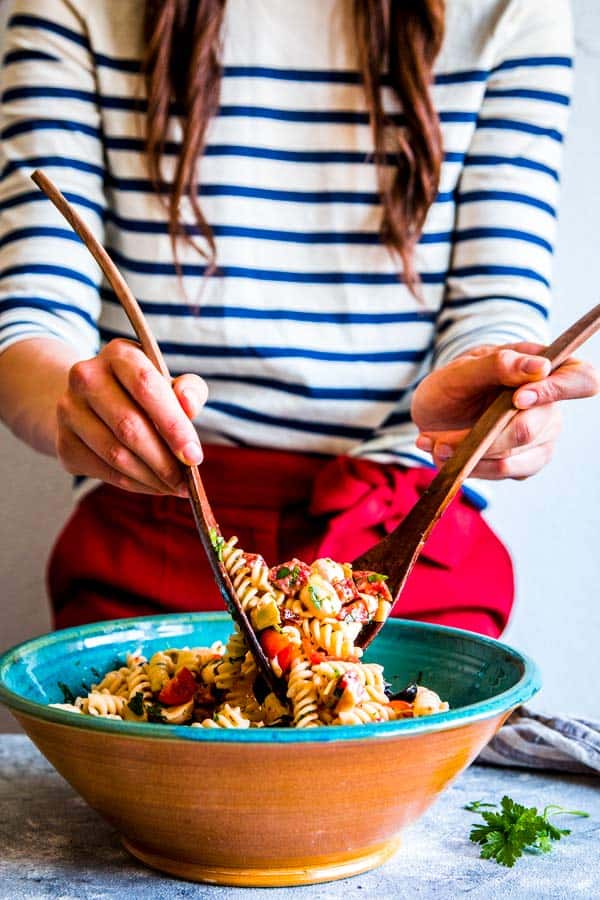 I think pasta salad is something you can just make into your own thing.
Add other stuff you like, leave out stuff you don't like and just use this recipe as a guide.
Now go off an rock your summer parties like a boss 💪🏻
Get the printable recipe for this Italian Pasta Salad:
Printable Recipe Card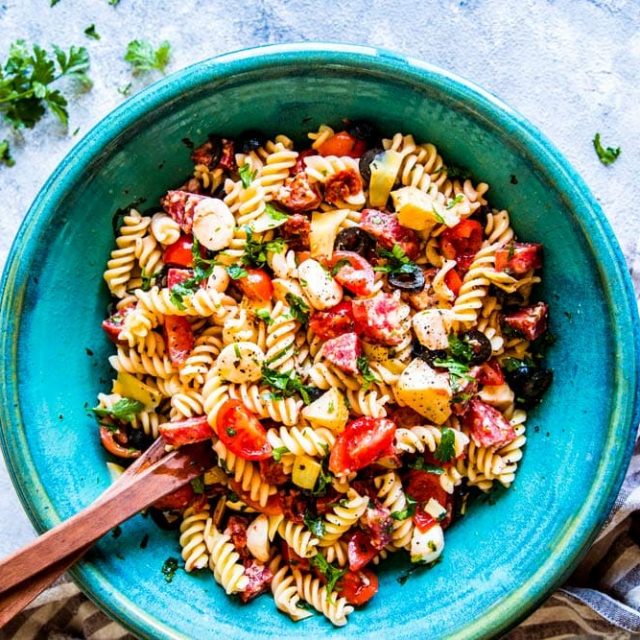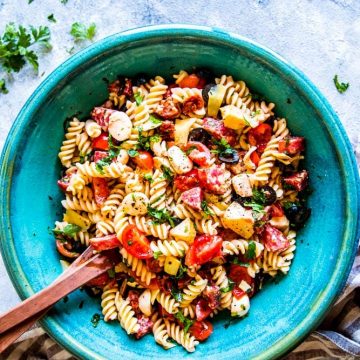 Easy Italian Pasta Salad
Are you looking for an easy side dish to bring to your next potluck or backyard BBQ? This easy Italian Pasta Salad is just what you need!
made it? tap the stars to add your rating!
Ingredients
1

pound

short pasta shapes

such as rotini or bow ties

8

ounces

mini mozzarella balls

halved

½

pound

pepperoni or salami

chopped

½

pound

artichoke hearts

sliced

3

cups

cherry tomatoes

halved

½

cup

black olives

sliced

¼

cup

chopped sun-dried tomatoes

2

tablespoons

chopped fresh basil

2

tablespoons

chopped fresh parsley

1 ½ – 2

cups

Italian dressing
Instructions
Combine all ingredients in a large bowl. Cover and chill for at least 1 hour before serving.
Want to save this recipe?
Create an account for free to start your personal recipe box. Save any recipe by tapping the heart in the bottom right corner.
Join Now
Notes
To make your own Italian dressing:
1 cup olive oil
⅓ – ½ cup red wine vinegar
1 teaspoon fine sea salt
1 tablespoon honey
1 heaping teaspoon dried oregano
1 heaping teaspoon dried basil
½ – 1 teaspoon dried garlic powder
black pepper to taste
Try the dressing before adding it to the salad. If it's too acidic for your taste, add more olive oil and honey.
Nutrition
Calories:
393.23
kcal
Carbohydrates:
35.77
g
Protein:
13.68
g
Fat:
21.81
g
Saturated Fat:
5.44
g
Cholesterol:
26.65
mg
Sodium:
809.69
mg
Potassium:
325.13
mg
Fiber:
2.34
g
Sugar:
6.19
g
Vitamin A:
497.6
IU
Vitamin C:
14.5
mg
Calcium:
97.65
mg
Iron:
1.54
mg
Nutrition is an estimate.
More recipe information