Creamy and easy Tomato Soup with BACON!!
Making homemade tomato soup is incredibly simple, and my tips will take it to the next level! Adding bacon and sautéing plenty of extra vegetables in the drippings before adding the tomatoes gives the soup a rich and deep flavour.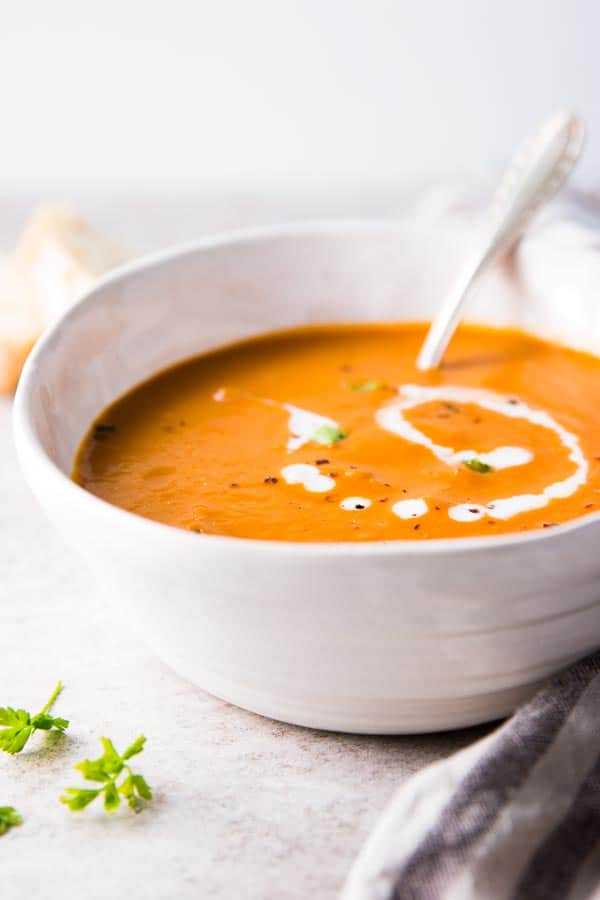 I adore tomato soup. Any kind of tomato-based soup is the best in my books (see Hearty Pasta Fagioli Soup, and Tuscan White Bean Soup with Sausage).
Maybe I should stop calling every other recipe I share here my favourite… Oh well, they are ALL my favourites, otherwise I wouldn't be sharing them ??‍♀
I do already have a Speedy Creamy Tomato Soup here on the blog, but I really wanted to show you how amazing a tomato soup with bacon can be.
Hint: Supercalifragilisticexpialidociously.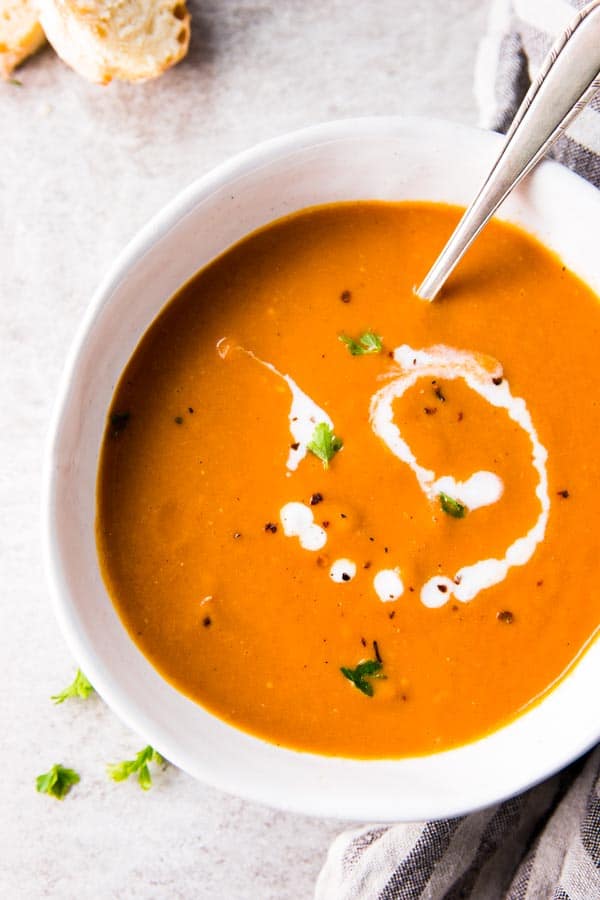 I'm well aware that bacon doesn't exactly sound like #healthgoals, but I'm not of the school of thought that some foods are bad and others are good. I believe in balance, and in this case the balance is plenty of vegetables in the soup, cream optional (and absolutely zero percent necessary for delicious soup).
How to make Easy Tomato Soup with Bacon:
The deep flavours in this soup come first and foremost from the bacon, but also from NOT draining the bacon fat. Seriously, this stuff is delicious and you won't need any additional fat to cook the veggies.
Then you'll sauté the vegetables in the rendered fat, until they're nicely roasted. One word of semi-warning: Adding celery and carrot to the soup does make it less stark-red and more orange-tinted. But it's still beautiful, just thought I'd manage your expectations from the get-go.
And finally – just throw in crushed tomatoes, broth and seasoning and let the soup simmer for a bit. Easy peasy.
I prefer it blended in my Vitamix – it makes for the most beautifully creamy soups. Full disclosure: In the video below I'm blending it with a stick blender. I really want to make my recipes accessible to everyone so I test without expensive appliances whenever possible. And this tomato soup is super delicious blended with an immersion blender – just a little less smooth!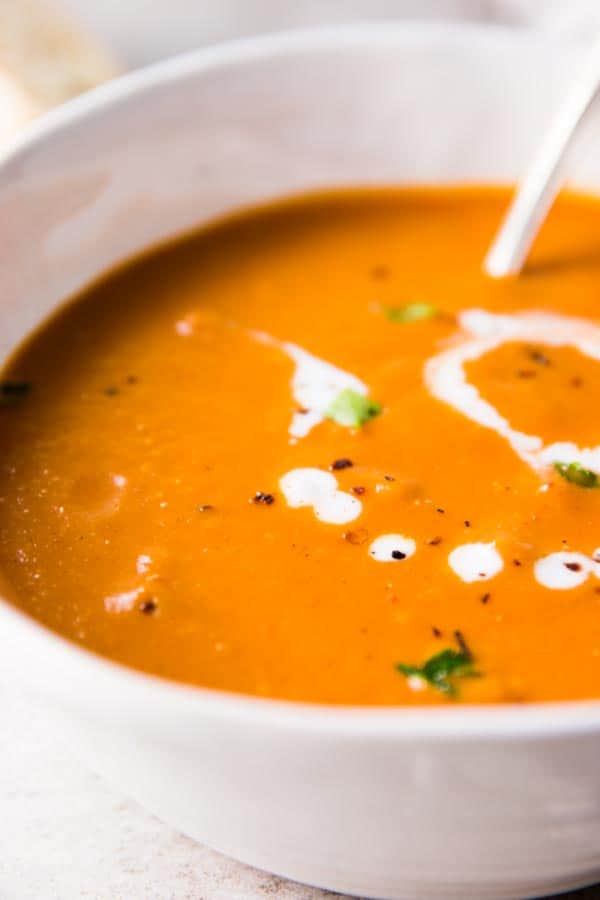 Do I think it's worth saving up for a Vitamix*? Yes, if you love perfectly smooth soups and smoothies… It definitely is! But a really good immersion blender will give you a smilier result for a lower cost – I have an older model of this one*.
My love for extra-creamy tomato soup probably stems from the fact that I never ate homemade tomato soup until I was at leat 20 years old. Before then, it always came from a packet of powdered mix. Definitely a proud food moment I'm sharing here… /sarcasm off
I've heard of strange people who prefer their tomato soup un-blended and I won't tell you not to do it, I just want to know why??
And while I'm giving you permission to blend or not blend your soup however you like it, I'm absolutely NOT giving you permission to eat it without a crusty loaf of no knead homemade French bread. Both are so easy to make, you don't even have any excuses.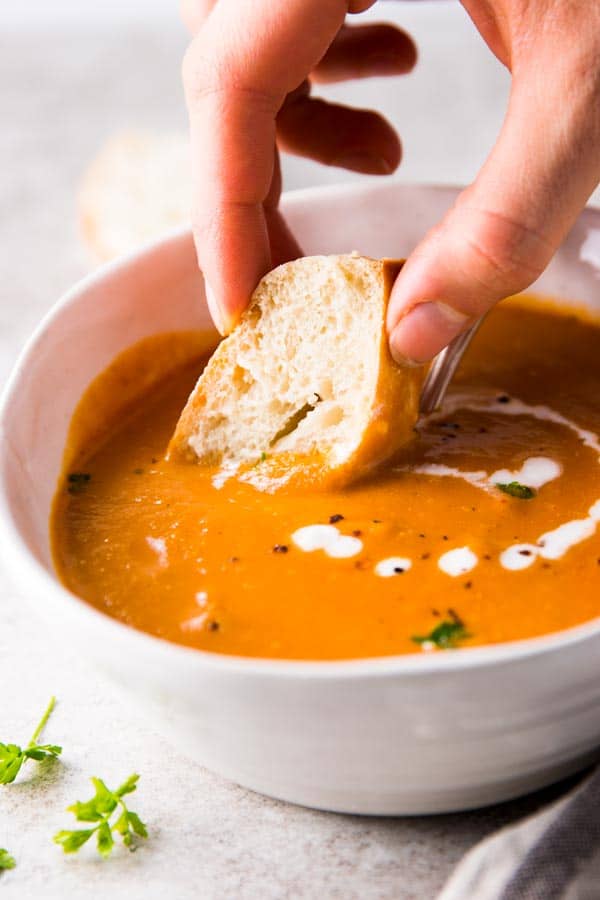 Tomato Soup FAQs:
What is good to eat with tomato soup?
Many things! These are my faves:
Baguette, obviously
Grilled cheese (this one would be amazing!)
Avocado on toast
Crackers and goat cheese
Can you put milk in tomato soup?
There seems to be conflicting information on this topic. Personally, I've ruined too many dishes with curdled milk so I wouldn't do it. If I want to make a creamy tomato soup, I add a touch of cream right at the end OR I blend in some ricotta, creamy goat cheese or even cream cheese.
What herbs and spices can you put in tomato soup?
I usually just add Italian seasoning, salt and freshly ground black pepper because who's got the time? But if I want to be fancy:
Plenty of roasted garlic
Fresh basil
Red pepper flakes for some heat
What's your favourite tomato song?
The Ketchup Song, obviously. I danced to it on stage for my middle school graduation party. In front of all teachers. And students. And parents.
True to the early 00's, I was bare-bellied.
And I was 12.
What were you thinking, Mum?? ?
Watch how to make it:
Get the printable recipe for this easy tomato soup:
Printable recipe
Printable Recipe Card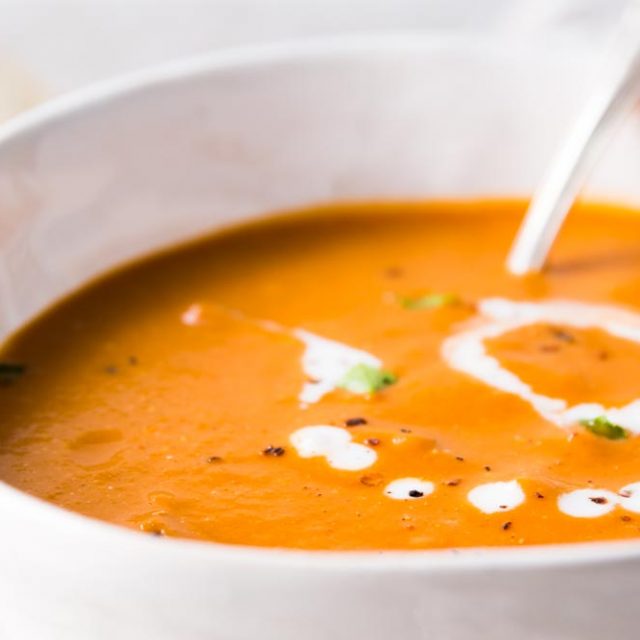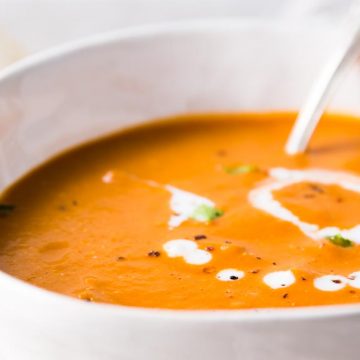 Easy Tomato Soup
Making homemade tomato soup is incredibly simple, and my tips will take it to the next level! Adding bacon and sautéing plenty of extra vegetables in the drippings before adding the tomatoes gives the soup a rich and deep flavour.

made it? tap the stars to add your rating!
Ingredients
2

slices

bacon

chopped

1

onion

roughly chopped

3

cloves

garlic

chopped

2

stalks celery

roughly chopped

1

large carrot

peeled and roughly chopped

2

teaspoons

Italian seasoning

2 ½

cups

broth

any kind works, we prefer chicken

28-

oz.

can crushed tomatoes

Heavy cream

to serve (optional)
Instructions
Get sautéing: Heat a large pot or Dutch oven over medium heat. Add the bacon and brown until there's rendered fat in the pot. Add the onion, garlic, celery and carrot. Cook until starting to soften and caramelise, about 5 minutes.

Season: Stir in the Italian seasoning and any additional seasoning you might like. Cook for 1 minute, stirring constantly.

Add liquids

and

simmer:

Add the broth and crushed tomatoes and stir well. Bring to a boil, then reduce the heat to low and simmer for 10-15 minutes. If you prefer a thick soup, leave the lid off. If you like your soup on the thinner side, cook it with the lid on.

Blend: Allow the soup to cool for 5 minutes before blending it until smooth. If you like, stir in a few tablespoons of heavy cream before serving.
Want to save this recipe?
Create an account for free to start your personal recipe box. Save any recipe by tapping the heart in the bottom right corner.
Join Now
Nutrition
Calories:
113
kcal
Carbohydrates:
16
g
Protein:
3
g
Fat:
4
g
Saturated Fat:
1
g
Cholesterol:
7
mg
Sodium:
972
mg
Potassium:
557
mg
Fiber:
3
g
Sugar:
8
g
Vitamin A:
3200
IU
Vitamin C:
22.7
mg
Calcium:
101
mg
Iron:
2.4
mg
Nutrition is an estimate.
More recipe information
P.S: Once you've made this soup, please leave me a comment and star rating below – I always love to read what you think of my recipes!
* I make a commission for purchases made through these links.