These Easy Zucchini Fritters are a great way to use up all that summer zucchini! It's such an easy recipe that makes for the perfect side to grilled meat, or a simple finger food lunch for the kids!
Zucchini Fritters are one of my kids' favorite summer dishes, and I love them too because they're so quick to whip up.
For more zucchini recipes, see my Zucchini Bread Breakfast Cookies or my Baked Parmesan Zucchini Fries.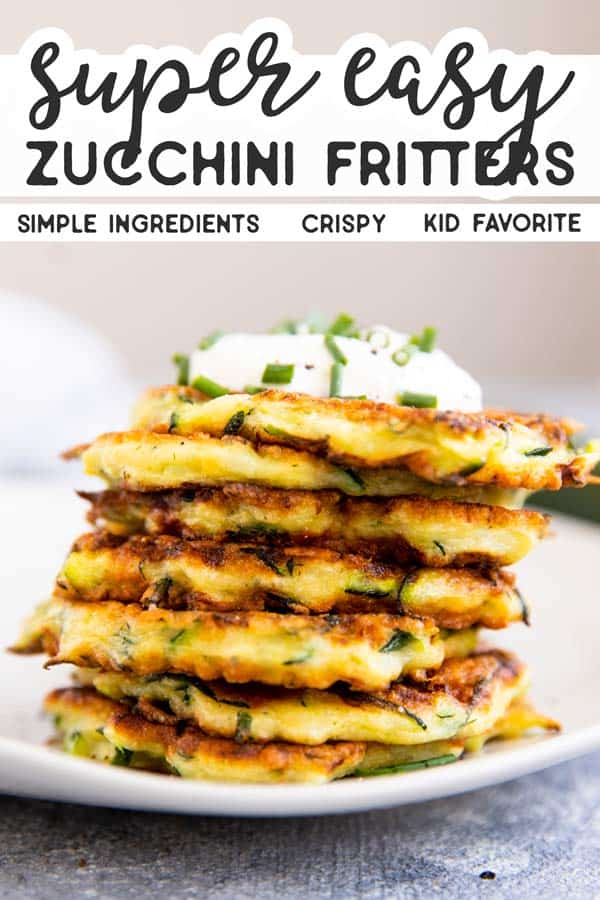 We grow zucchini in our garden every year, and this year is the first time we actually managed to harvest some! The overload I have to work with usually comes from my neighbor's garden though.
The other day I was making a quadruple batch of these zucchini fritters with another huge zucchini she kindly donated to us (aka she needed to get rid of it, haha!), and I realized I never shared my recipe here on the blog.
We love these Zucchini Fritters with Lemon Garlic Grilled Chicken or a grilled marinated steak for dinner, or with a Cherry Tomato Caprese Salad or a Tomato Cucumber Avocado Salad as an easy lunch!
These Easy Zucchini Fritters
only have a handful of simple ingredients
come together quickly and easily – just stir the batter together and cook in a skillet by the spoonful!
taste delicious dipped in sour cream!
I love easy recipes that make it OK to serve finger food as a full meal, don't you?
I'll often make Mashed Potato Pancakes or Chips and Pineapple Salsa when I don't feel like doing much for lunch (but have hungry kids at home during summer…), and the zucchini fritters are another favorite in this rotation!
How to Make Zucchini Fritters:
Read on for the steps in this recipe, or scroll down below for more tips like how to shred and squeeze zucchini, how to freeze zucchini fritters and the printable recipe card!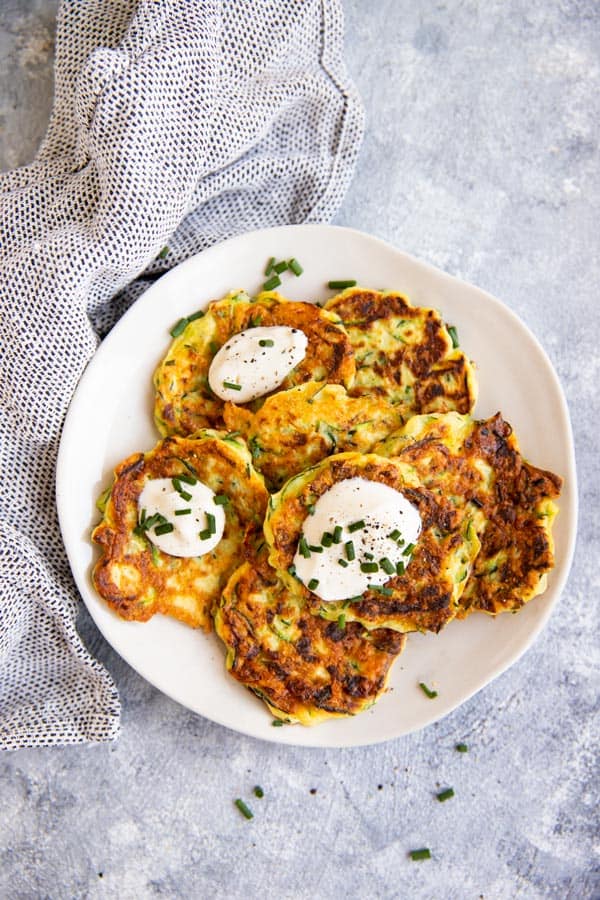 1 – Shred the zucchini on a coarse grater and place it in a colander with salt to drain out extra moisture.
2 – In the meantime, place eggs, shredded cheese, chopped chives, flour, salt and pepper in a mixing bowl and stir until well combined.
3 – Remove any excess liquid from the zucchini by squeezing it over the sink in a tea towel.
4 – Finish the batter: Stir the drained zucchini into the bowl with the egg and flour until well combined.
5 – Cook the fritters: Heat oil in a skillet, then drop the batter into the hot pan by tablespoons. Don't overcrowd the pan or they'll get soggy! Slightly flatten and spread out with the back of the spoon and pan-fry until golden, then flip and finish cooking on the other side.
6 – Serve the fritters hot with sour cream for dipping. They're only crispy hot out of the pan, so they'll soften if you serve them at room temperature, but they're still very delicious!
Tips for these Easy Zucchini Fritters:
do not skip draining excess water from the shredded zucchini, or your fritters will get soggy and watery during cooking
season the fritters to your taste – I make them very mild because I have little kids, but feel free to add some heat with chili flakes or a little zestiness with lemon
don't cook too many fritters at once (unless you have a large griddle – lucky you!), they don't crisp up and brown nicely if the pan is overcrowded
How to Shred Zucchini and Squeeze Out Extra Moisture:
To shred zucchini and drain it from extra liquid, first wash the zucchini and trim one end – use the other end to hold the zucchini while grating for minimum food waste!
Shred it on a a coarse grater – I love my microplane box grater because it makes a quick and easy job of shredding pretty much anything.
See which one I have here on Amazon! (This is an affiliate link and I make a commission for purchases made after clicking through.)
By the way, there's no need to peel the zucchini here, the peel softens during cooking!
To get rid of all extra moisture, place the zucchini in a colander and toss it with salt (don't worry, it will not be salty, that's just to draw out the water) and let it stand in the sink for 10 minutes.
Then place the zucchini in the middle of a clean tea towel and gather up the sides. Squeeze the zucchini over the sink until all extra water has been squeezed out. Now it's ready to use!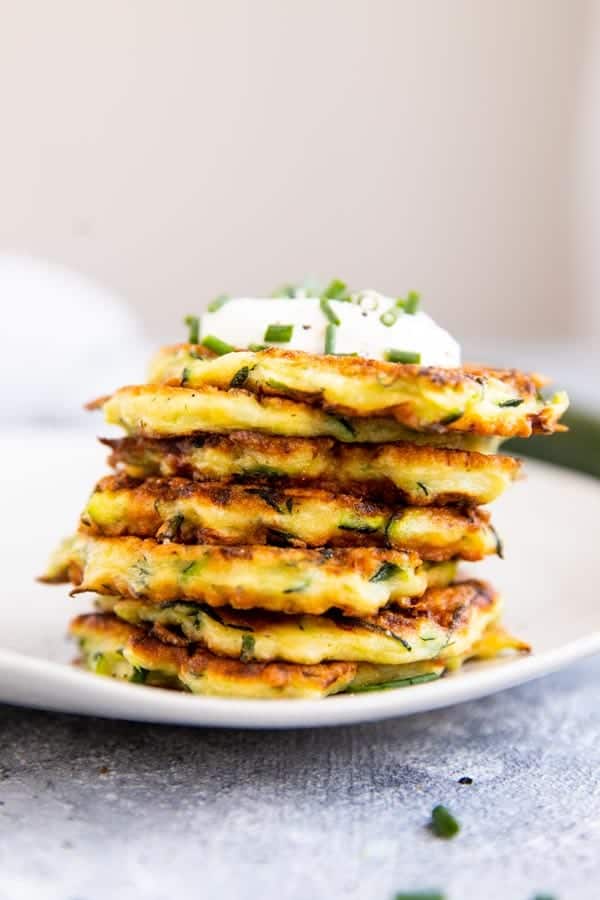 Can You Freeze Zucchini Fritters?
Yes, zucchini fritters are great to make ahead.
Flash-freeze the fritters once they're at room temperature by placing them in a single layer on a lined baking sheet. Freeze for a few hours or until solid.
Transfer to a freezer bag, label with the name and use-by date (freeze for up to 3 months) and place in the freezer.
To reheat, place the frozen fritters on a lined baking sheet in a 325 oven until piping hot all the way through.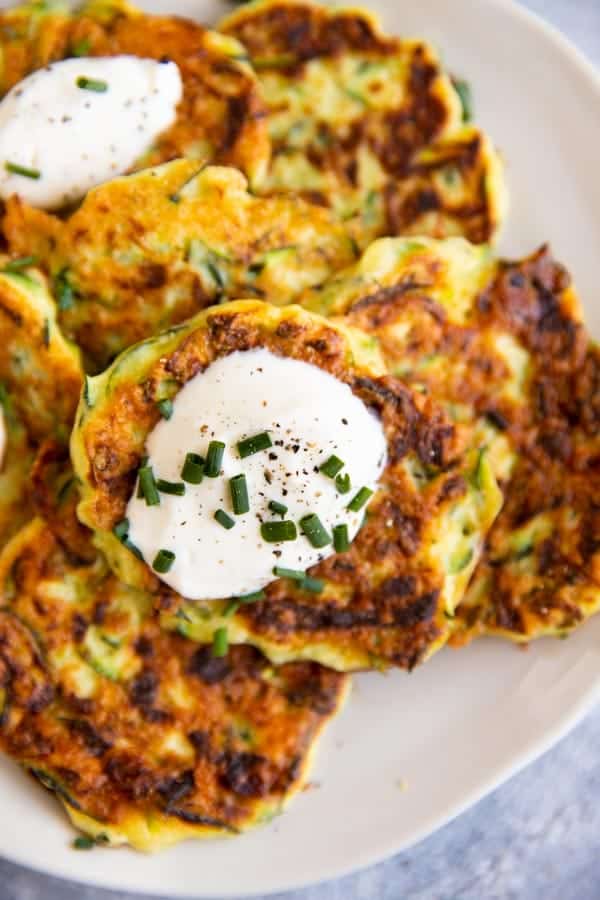 Easy Zucchini Fritters
made it? tap the stars to add your rating!
These Easy Zucchini Fritters are a great way to use up all that summer zucchini!
Ingredients
4

medium zucchini

(coarsely shredded)

½

teaspoon

salt

½

cup

all-purpose flour

2

large eggs

(beaten)

⅓

cup

shredded cheese

(Cheddar or Parmesan are our favorites)

1

tablespoon

chopped chives

(plus more to serve)

Salt & pepper

(to taste)

olive oil for frying
Instructions
Prepare zucchini: Place the zucchini in a colander and toss with ½ teaspoon salt. Let stand in the sink for 10 minutes, then transfer to a clean tea towel and squeeze any excess liquid.

Make batter: Combine flour, eggs, cheese, chives, salt and pepper in a medium mixing bowl until smooth. Add zucchini and stir well.

Cook: Heat the oil in a large skillet over medium-high heat. Drop batter by tablespoonfuls, flattening with the back of spoon. Fry, about 2 minutes on each side, until crisp and golden.
Add Your Review
Nutrition
Calories:
181
kcal
|
Carbohydrates:
18
g
|
Protein:
9
g
|
Fat:
8
g
|
Saturated Fat:
3
g
|
Cholesterol:
89
mg
|
Sodium:
397
mg
|
Potassium:
559
mg
|
Fiber:
2
g
|
Sugar:
5
g
|
Vitamin A:
607
IU
|
Vitamin C:
36
mg
|
Calcium:
91
mg
|
Iron:
2
mg
More recipe information: