You won't be disappointed by this recipe! Made using a simple technique, this chicken gets so crispy in the oven – it's hard to believe it isn't deep fried!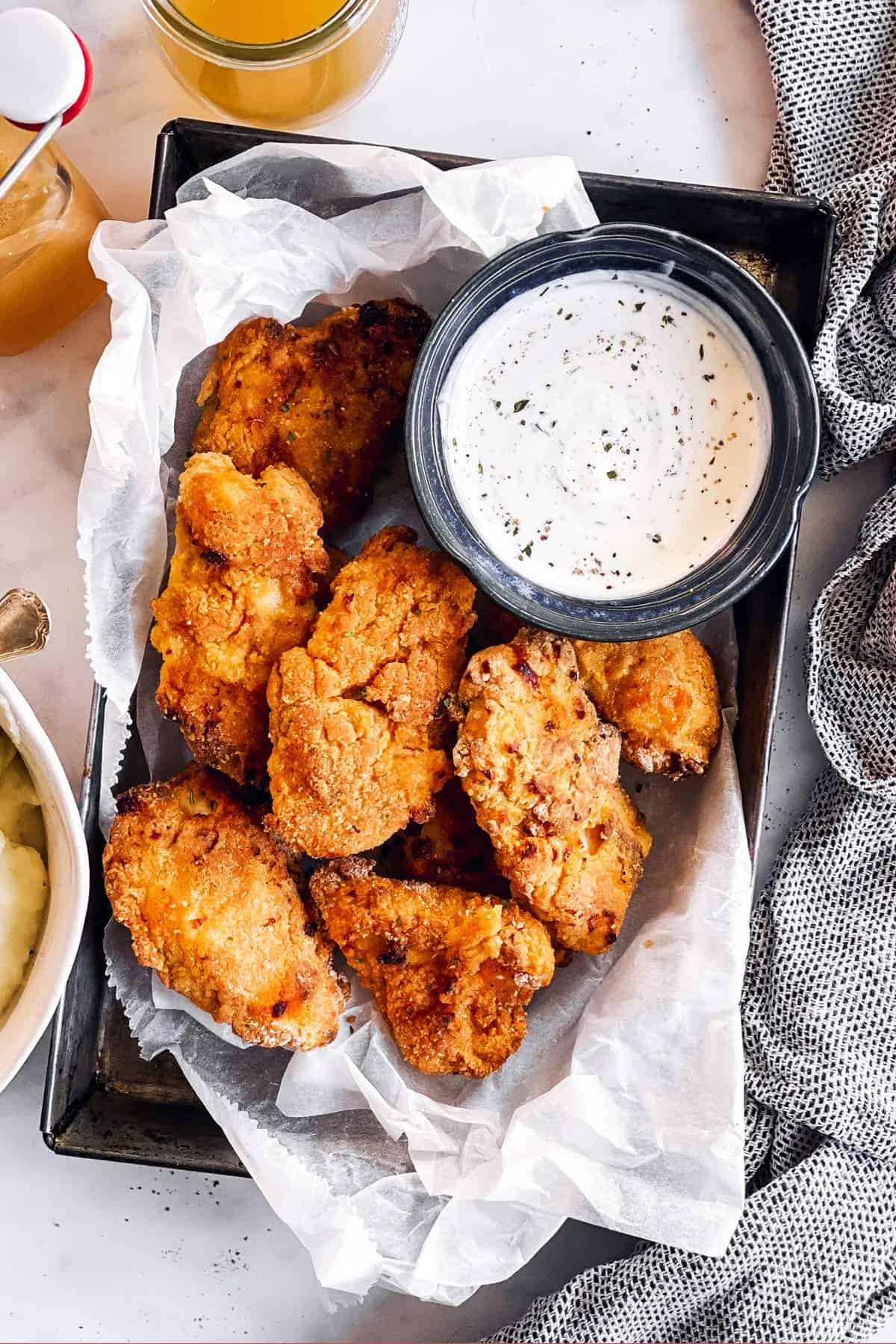 My family has a complete and utter love affair with oven fried everything. The kids will eat homemade chicken nuggets any day of the week, and the husband considers himself the luckiest guy in the world whenever I make my oven fried fish.
I won't lie – breading is probably my least favorite cooking technique, right next to rolling an endless pile of homemade meatballs… Either way, this chicken comes out supremely delicious. Is it a little tedious to make? You bet. Worth every second spent in the kitchen? Oh, but yes.
Ingredients you'll need
Here is a visual overview of the ingredients in the recipe. Scroll down to the printable recipe card at the bottom of this post for quantities!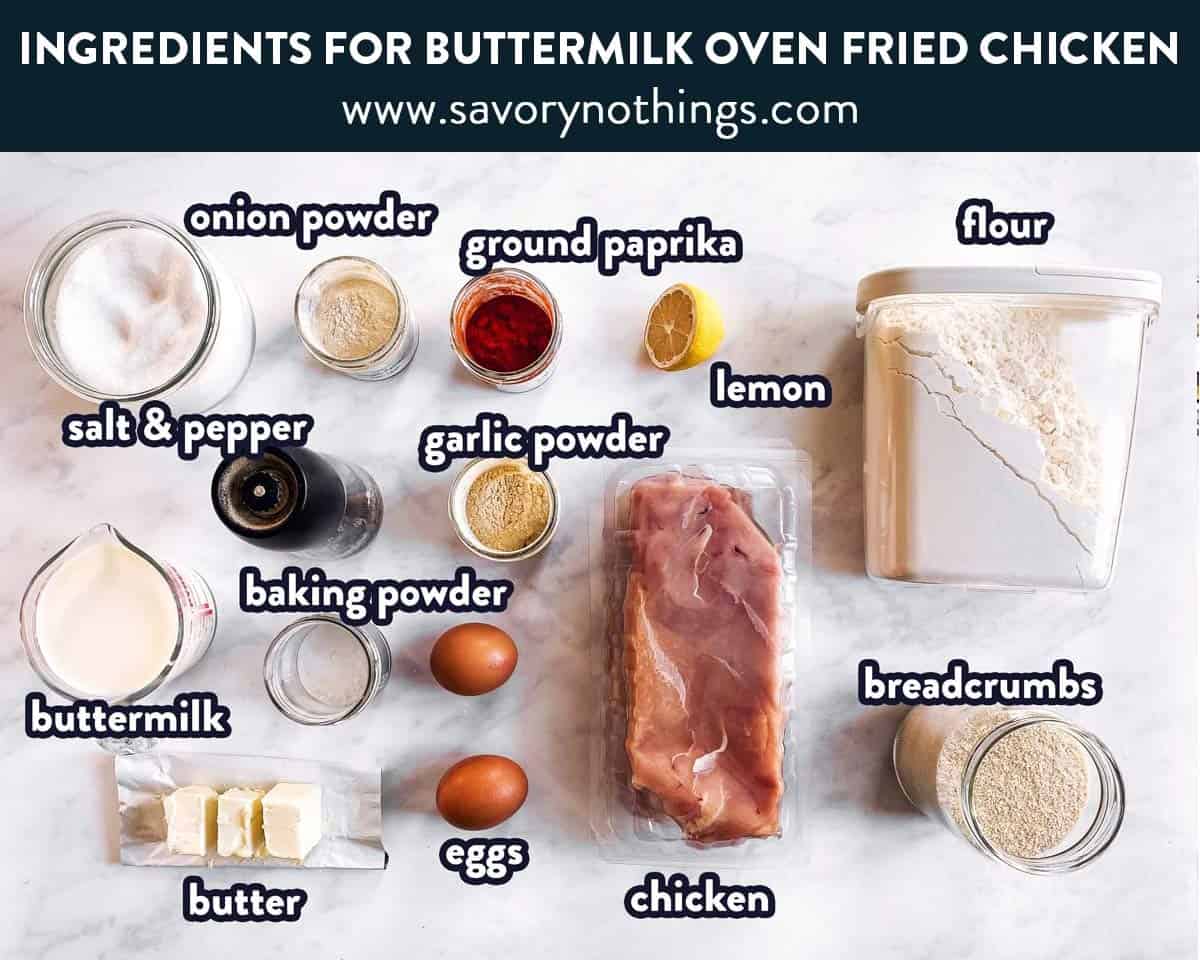 Ingredient notes
Chicken: I used chicken breast cut up into pieces, but chicken tenders work just as well. This also works with other chicken pieces – many readers have reported great success using wings, drumsticks or even thighs. Some cuts will take longer in the oven (especially bone-in thighs). Make sure to check with a food thermometer to fully cook the chicken (it should reach an internal temperature of 165°F according to this governmental safe minimum cooking temperature chart).
Buttermilk: Make an easy substitute by using regular milk mixed with 1 tablespoon white vinegar. Let it sit on the counter for 5-10 minutes, then use in the recipe.
Breadcrumbs: I just use regular plain breadcrumbs, but Panko is also great.
Salt: The amount of salt needed depends a lot on your specific salt. Whenever I use a natural sea salt, I've come to notice it's not very "salty" compared to table salt. If you're in doubt, make the recipe with less salt the first time and see if you need to increase it in the future. You can always season the chicken once it's cooked, but you can't take away too much salt.
Flour: I know from a few readers who have successfully made this recipe gluten free with gluten free flour (and gluten free breadcrumbs).
How to make buttermilk oven fried chicken – step by step
The first step is to marinate the chicken. To do this, you need to combine all of the marinade ingredients (1) in a bowl (2). Then add the chicken, stir well (3) and chill for at least one hour and up to overnight (4).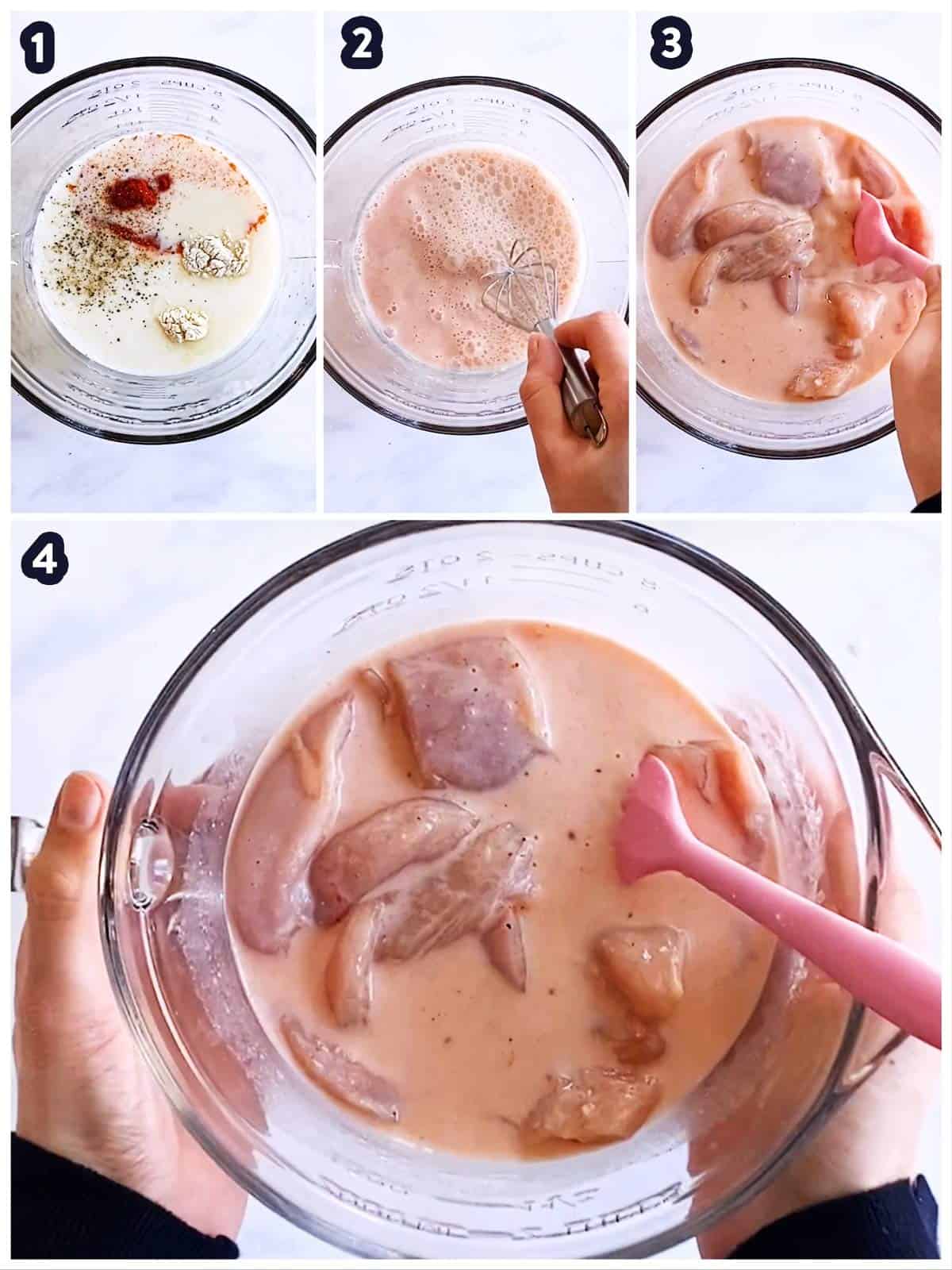 Once the chicken is ready, you need to prepare the breading ingredients. All of the dry breading ingredients are mixed in a large dish (5), and the egg wash in a medium bowl (6).
Shake any excess marinade off the chicken, then thinly coat it with the dry breading mix (7). Toss the coated chicken in the egg wash (8). Finally, dredge each chicken piece through the dry mix again, thickly coating the chicken this time (9).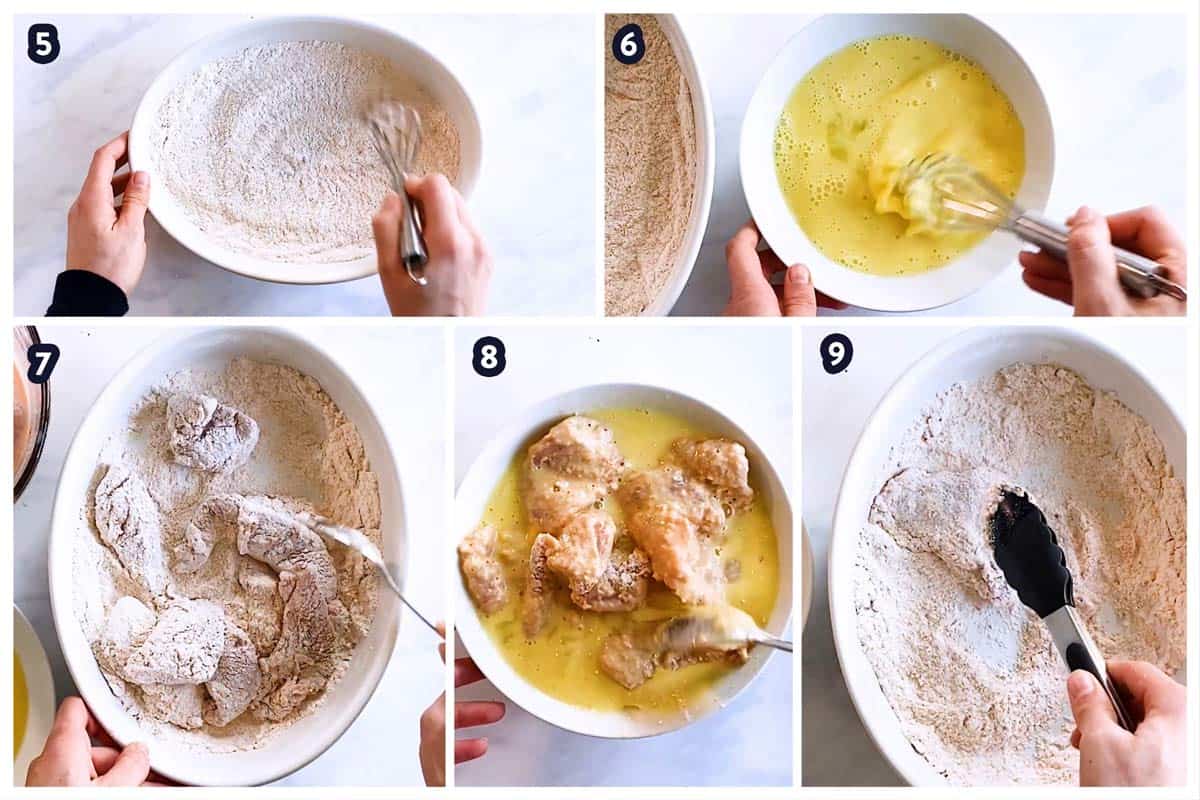 Make sure to press the breading on the chicken at this point, or it will fall off during baking!
Once all of the chicken is breaded (10), melt butter on a preheated dark roasting pan. Spread out the chicken pieces on the pan (11) and bake for 10-12 minutes. Then gently release from the pan with a spatula, flip and finish baking (12).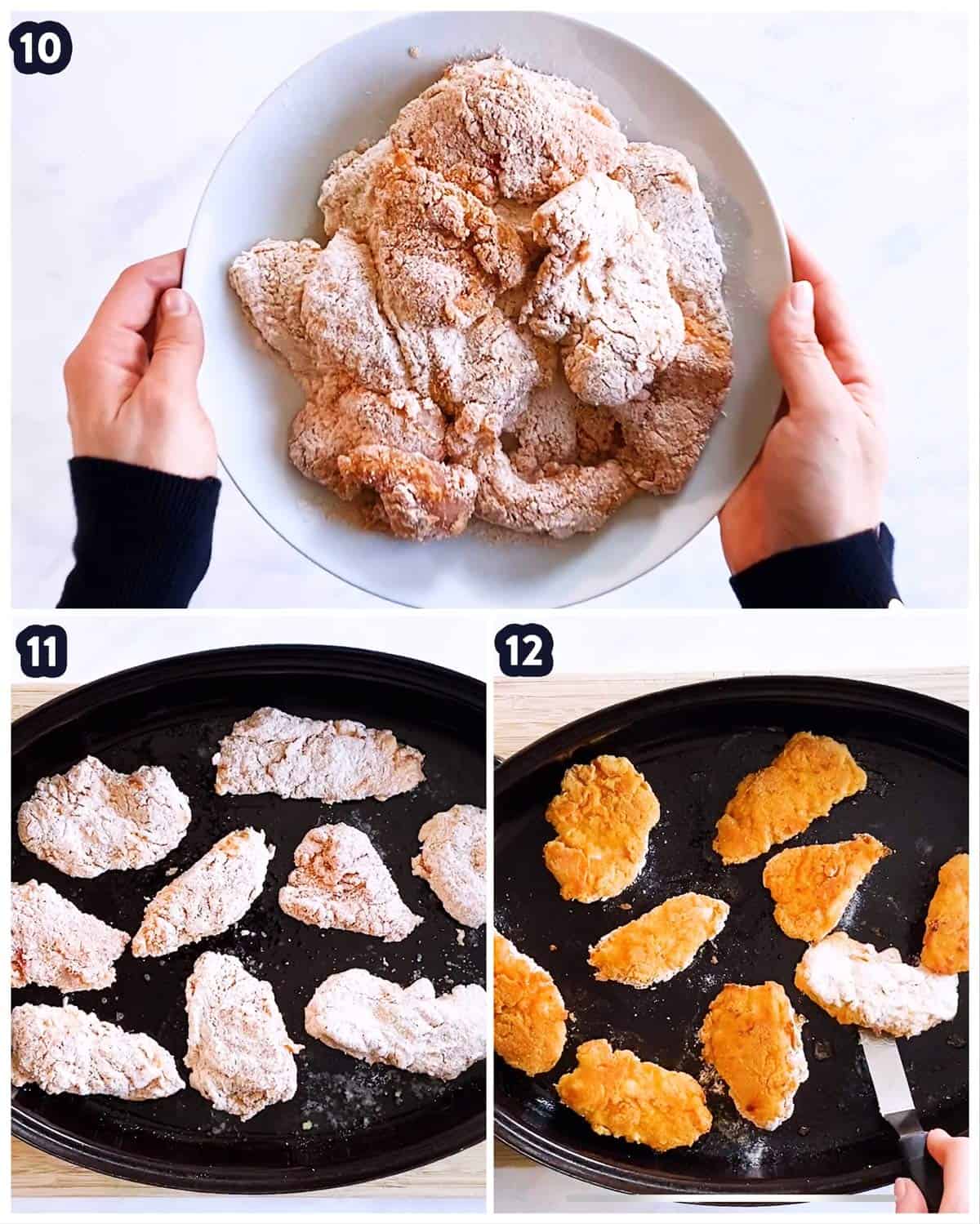 You can finish the chicken under the broiler for 2-3 minutes to crisp it up even more, if you like! I don't always bother, but it adds a little extra delicious finishing touch.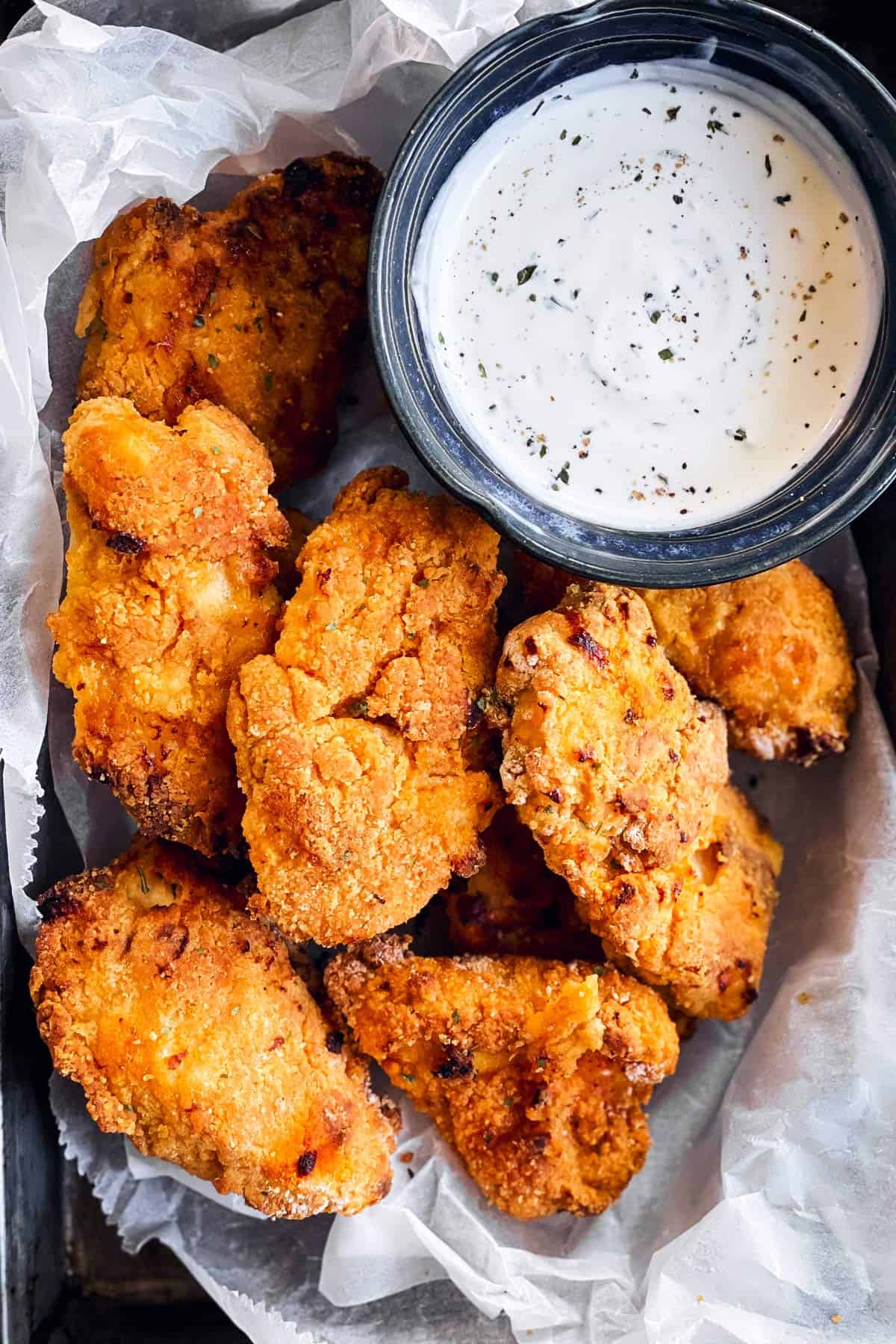 Recipe tips
Breading tips
Make sure to use separate dishes for the dry breading ingredients and the wet breading ingredients as instructed in the recipe, do not mix them together.
I use large enough dishes to hold about ⅓ of the chicken at a time. This way I can toss several chicken pieces in the first dry coating and in the egg wash at a time. Then I do the final dry coating piece by piece – still tedious, but a little faster.
Be sure to firmly press on the final coating, in order for it to stick to the chicken during baking.
What kind of pan to use
It's very important to use the right kind of pan for this recipe. It needs to have the following features:
It needs to be dark to better reflect heat back onto the chicken
It has to have a rim to hold in the melted butter
It needs to be preheated in the oven before placing the chicken on top
Preheating the pan is a VERY important step – I do it with everything I want to get crispy in the oven, from oven fried chicken to homemade chicken nuggets to oven fried shrimp and even baked potato wedges.
Baking tips
Make sure to preheat the pan and use enough butter – otherwise the chicken will not crisp up as much as it should.
Be careful when you flip the chicken. Slide a spatula underneath each piece to make sure the breading doesn't rip off.
Side dish ideas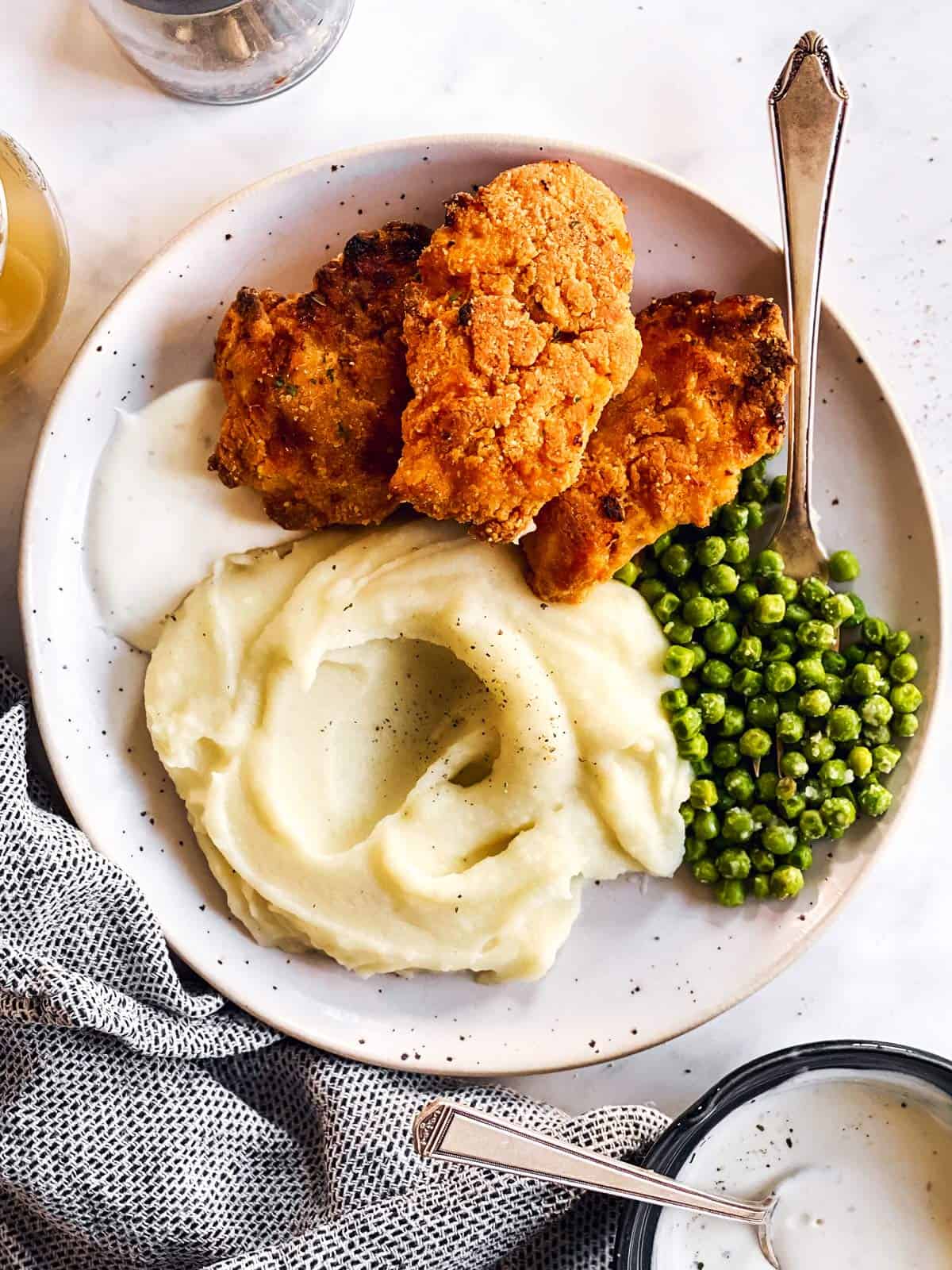 Wondering what to serve with your oven fried chicken? We enjoy it with mashed potatoes or slow cooker mac and cheese – or baked mac and cheese if I forgot to set the crockpot version!
We love them dipped in honey mustard or a homemade ranch dip. And plenty of coleslaw! Other side dishes we enjoy are baked beans, sautéed green beans or simple frozen peas.
Oh and P.S: Here's how to reheat any leftovers so they crisp up again!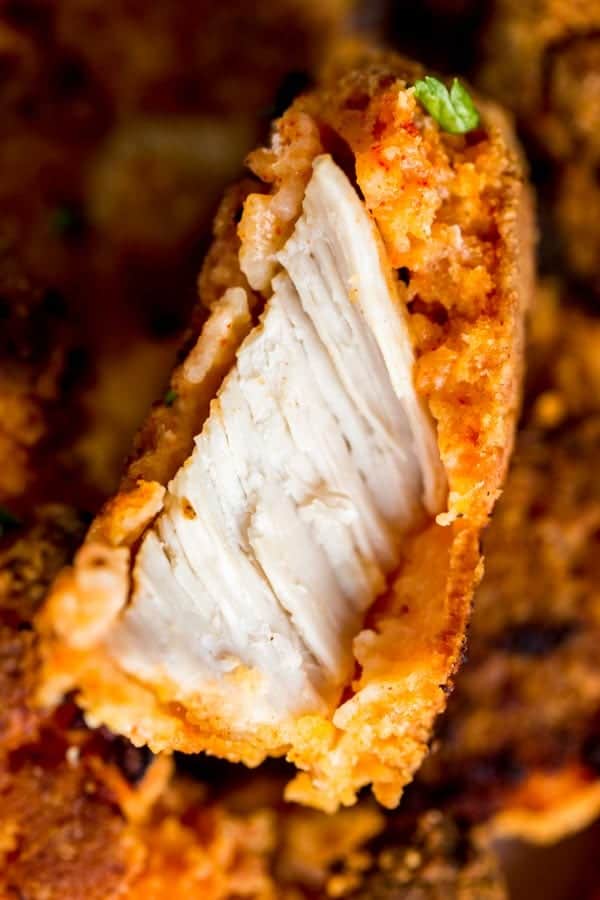 More oven fried chicken recipes
PS If you try this recipe, please leave a review in the comment section and add a star rating in the recipe card – I appreciate your feedback! Follow along on Pinterest, Facebook or Instagram.
Printable recipe
Printable Recipe Card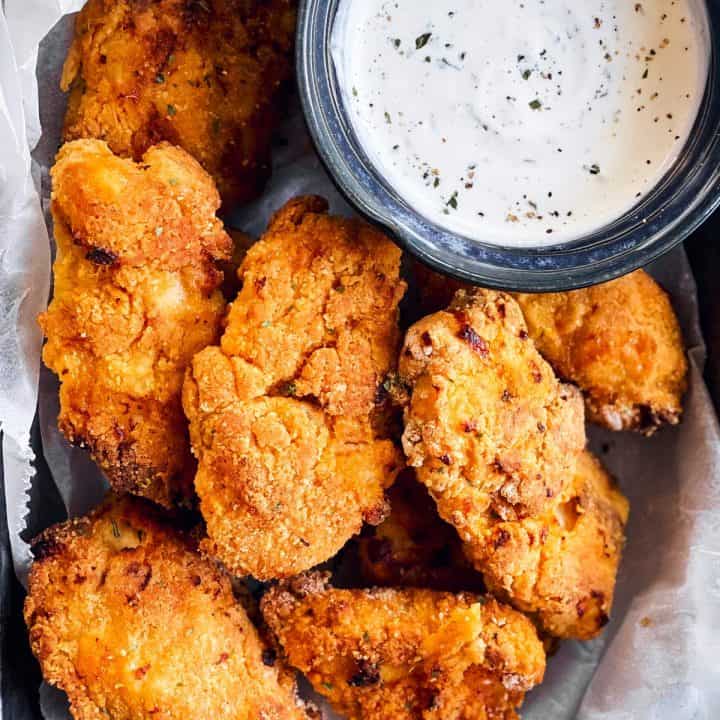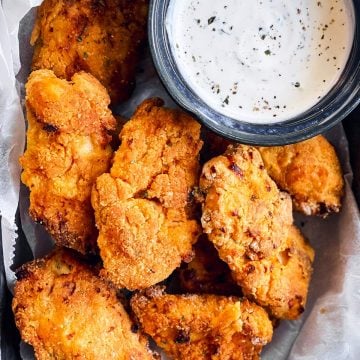 Truly Crispy Buttermilk Oven Fried Chicken
If you love crispy fried chicken, crunchy on the outside and juicy on the inside – this is the real deal right here. With a coating that actually sticks to the chicken. One that gets truly crispy in the oven. And the best part? None of the greasy stovetop cleaning.
made it? tap the stars to add your rating!
Equipment
roasting pan (dark colored preferred)
Ingredients
For the marinade:
½

teaspoon

salt

½

teaspoon

ground paprika

¼

teaspoon

garlic powder

¼

teaspoon

onion powder

freshly ground black pepper

to taste

1

cup

buttermilk

½

lemon

juice only

2

pounds

chicken breast

cut into strips (or use tenders)
For the dry coating:
1 ¼

cups

white flour

4

tablespoon

plain bread crumbs

panko or regular both work

½

teaspoon

baking powder

½

tablespoon

salt

or less to taste

2-3

teaspoons

garlic powder

1

teaspoon

ground paprika

1

teaspoon

onion powder

½

teaspoon

ground black pepper
For the wet coating:
2

large eggs

⅔

cup

buttermilk
Instructions
Prep the chicken:
Marinate: Whisk together all ingredients for the marinade (except for the chicken) in a large bowl. Add the chicken pieces, making sure they're all well coated. Cover and place in the fridge for one hour up to overnight. (If your'e short on time, simply place all the ingredients in a zip-loc bag and massage the chicken for a few minutes. Let it sit in the fridge for 10 minutes before using.)
Preheat oven and pan:
Prep the pan and oven:

Preheat the oven to 410°F (210°C). While the oven is preheating, place a dark, rimmed roasting or baking pan in the oven to heat up (more info in the post).
Bread the chicken:
Mix the dry coating:

Place all ingredients for the dry coating in a large bowl. Mix well.

Mix the wet coating:

To a separate bowl, add the eggs and ⅔ cup buttermilk. Whisk very well.

Coat the chicken pieces: Shake off any excess marinade. Dredge the chicken through the flour mix, shaking off any excess. Dip in the egg mix, making sure the chicken is evenly covered. Dredge through the flour mix once more, making sure the chicken is evenly covered, shaking off any excess.

Bake the chicken:

Place butter and chicken on pan: Carefully remove the hot pan from the oven, using oven gloves. Melt the butter on it, then place the chicken pieces on top without overcrowding the pan.

Bake: Bake for 10-12 minutes, carefully flip and bake for another 5-10 minutes (depending on how thick your chicken pieces are). Finish by broiling for a few minutes, until golden and crispy.

Serve: The chicken will feel soft right as it comes out of the oven. Let it sit for 2 minutes before serving, it will crisp up. Don't let it sit for a long period of time before you eat it, or it will start turning soggy.
Want to save this recipe?
Create an account for free to start your personal recipe box. Save any recipe by tapping the heart in the bottom right corner.
Join Now
Notes
Total time includes 1 hour marinating time. If you're marinating the chicken for longer, your total time will increase.
This also works with other chicken pieces – many readers have reported great success using wings, drumsticks or even bone-in thighs.
See the post for detailed tips and tricks to make sure this recipes comes out perfectly!
Nutrition
Serving:
1
serving
Calories:
456
kcal
Carbohydrates:
30
g
Protein:
40
g
Fat:
18
g
Saturated Fat:
9
g
Cholesterol:
185
mg
Sodium:
1764
mg
Potassium:
809
mg
Fiber:
1
g
Sugar:
4
g
Vitamin A:
795
IU
Vitamin C:
6.6
mg
Calcium:
143
mg
Iron:
2.6
mg
Nutrition is an estimate.
More recipe information
Check out our Oven Fried Chicken Breast Recipes collection for more ideas!