These Oven Baked Chicken Thighs are easy to make and come out so juicy and flavorful! Great for a healthy family dinner, and keto/low carb friendly, too.
I'm a big fan of baked chicken – be it chicken thighs baked with orzo or oven fried chicken breast or the oven baked chicken thigh recipe I'm sharing here. It's always a favorite with the family!
I prefer using bone-in, skin-on chicken here, but I'll be giving you tips for other options as well in case you have something else on hand.
Ingredients you'll need
Here is a visual overview of the ingredients in the recipe. Scroll down to the printable recipe card at the bottom of this post for quantities!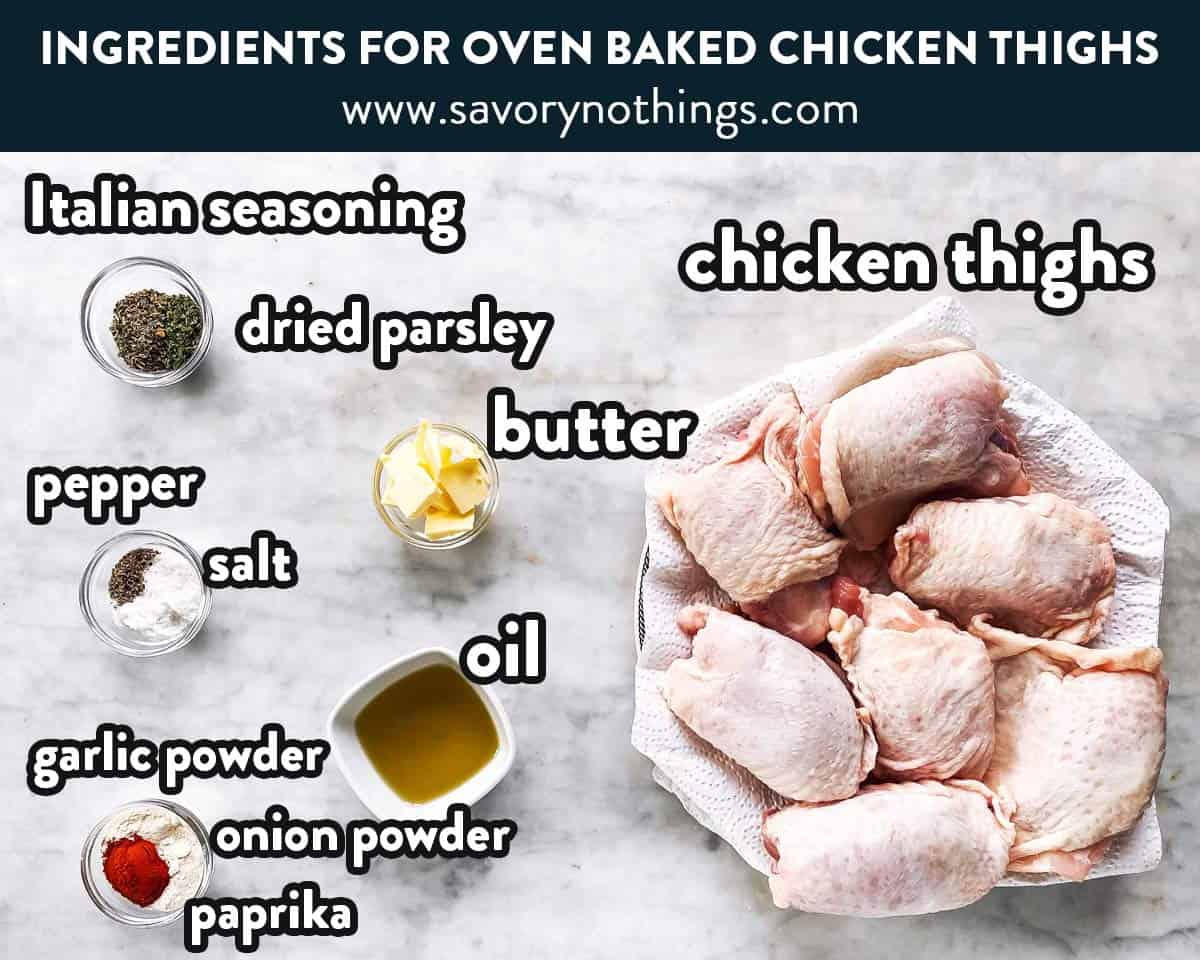 Ingredient notes
What kind of chicken thighs to use
I really prefer skin-on, bone-in chicken thighs for this recipe. It's how the chicken comes out best!
But if you prefer boneless, skinless chicken thighs: They will bake a lot faster, they should bake in around 25 minutes. The chicken may come out less juicy. I highly recommend using the butter on top of the chicken to help keep it from drying out!
How to make baked chicken thighs in the oven
1. Start by combining the oil and all of the seasoning in a large bowl. This will form a sort of paste and it's exactly what you want it to be.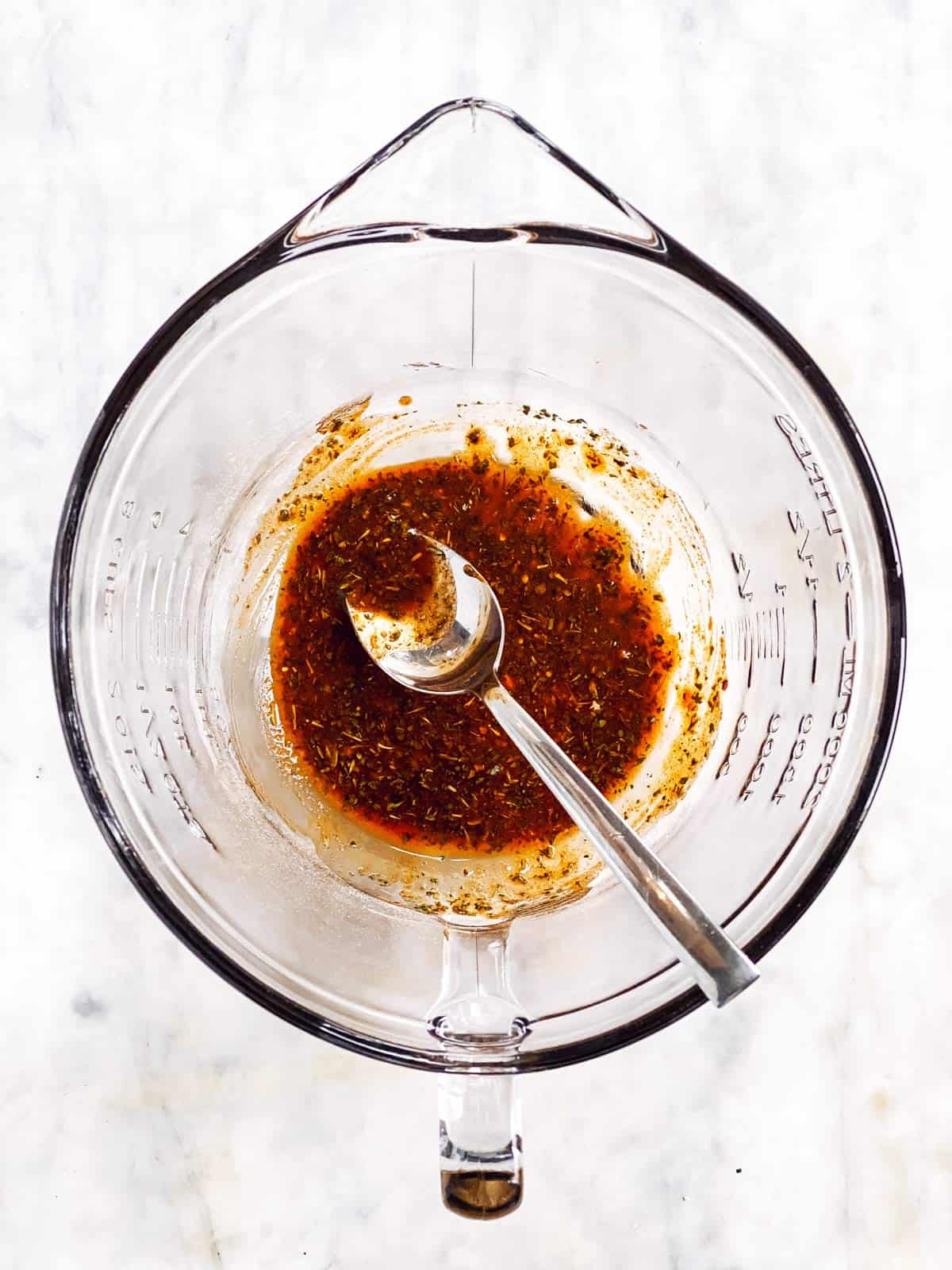 2. Add the chicken thighs to the bowl (work in batches if the bowl is not large enough to comfortably hold all of the chicken).
Toss and dredge the chicken through the seasoning paste, then remove one by one, rubbing the seasoning well into the chicken.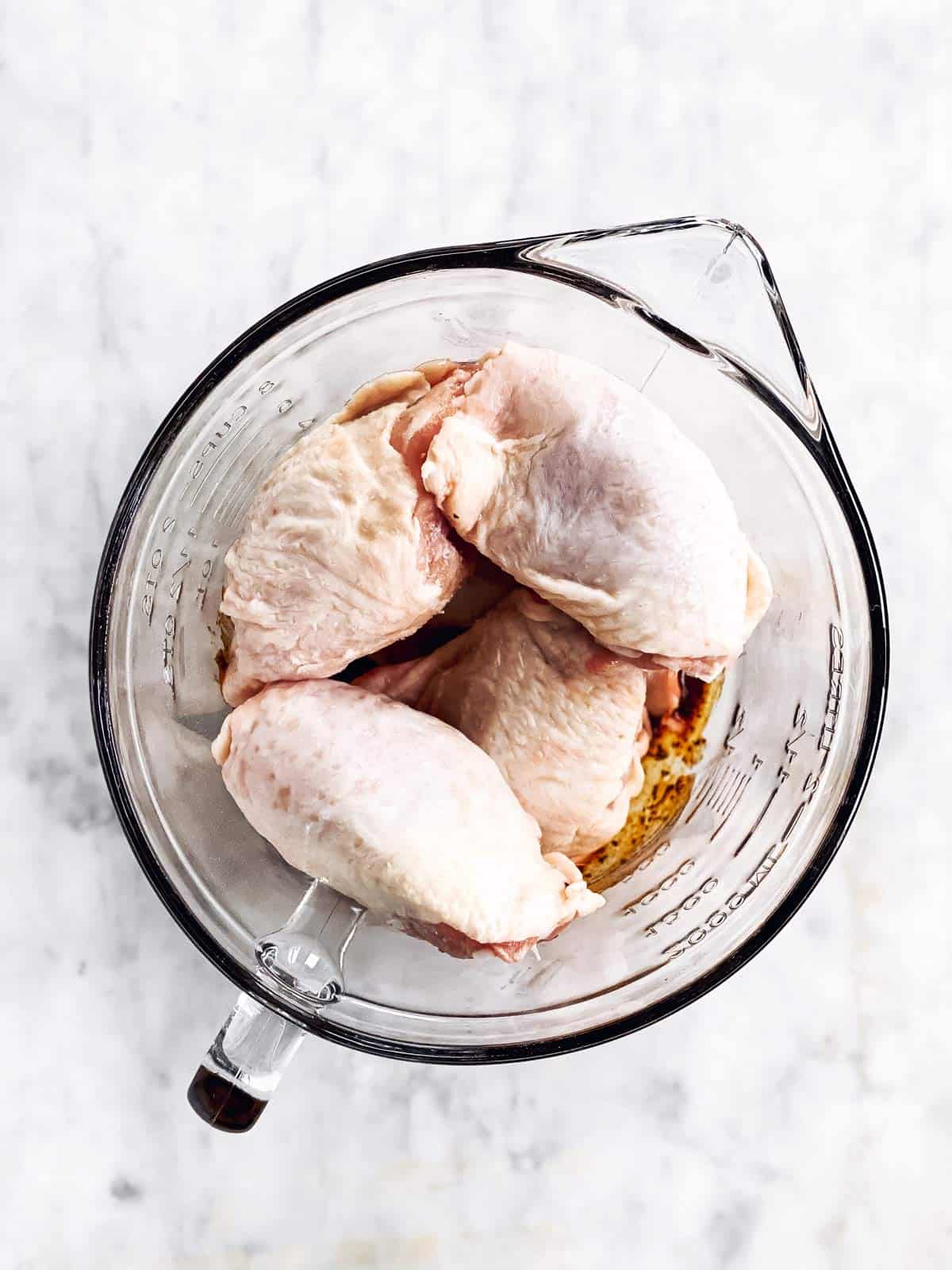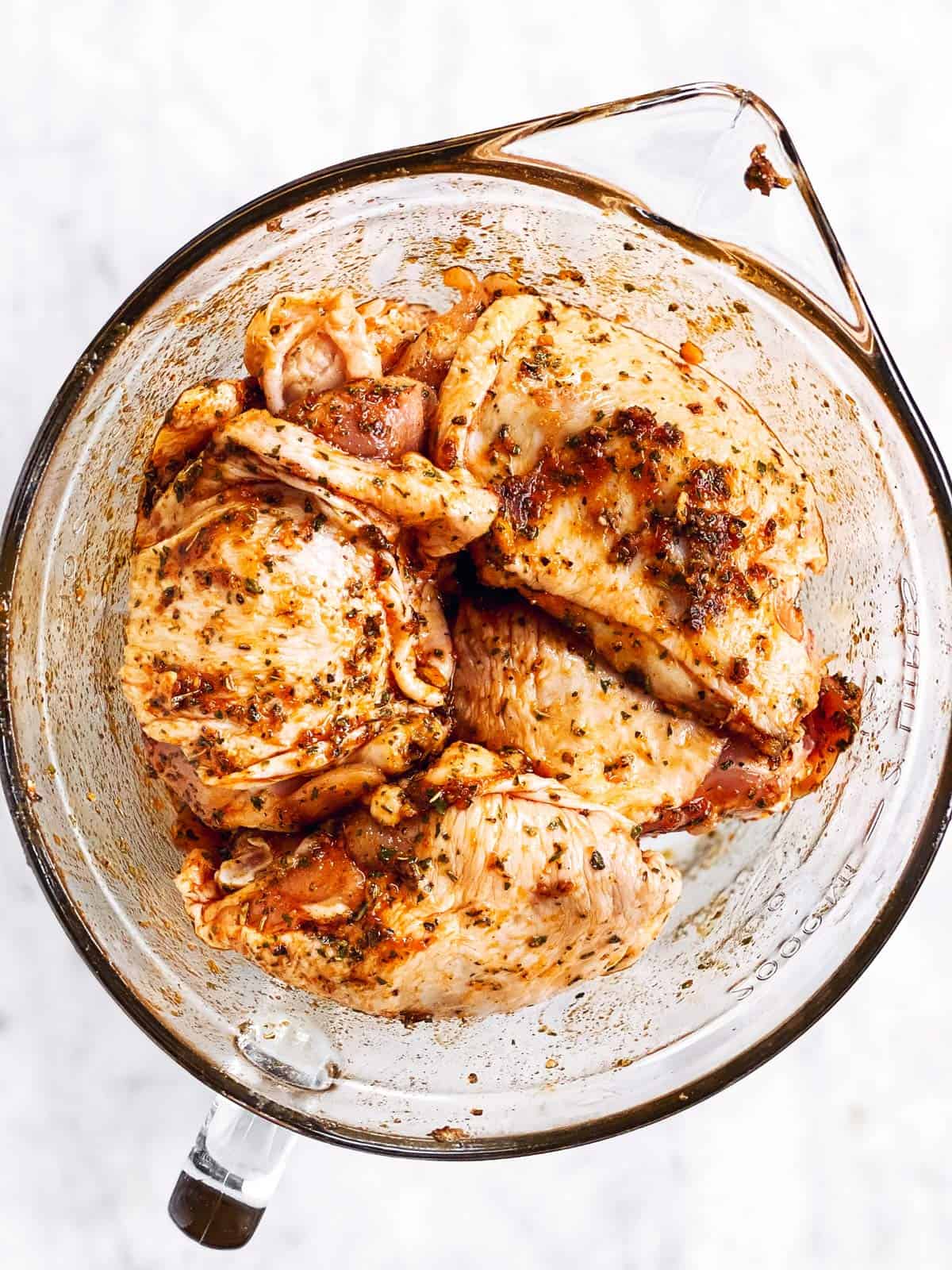 3. You want to place a foil-lined pan in your oven as it heats up. Once the oven is hot, remove the pan and place the seasoned chicken thighs on it.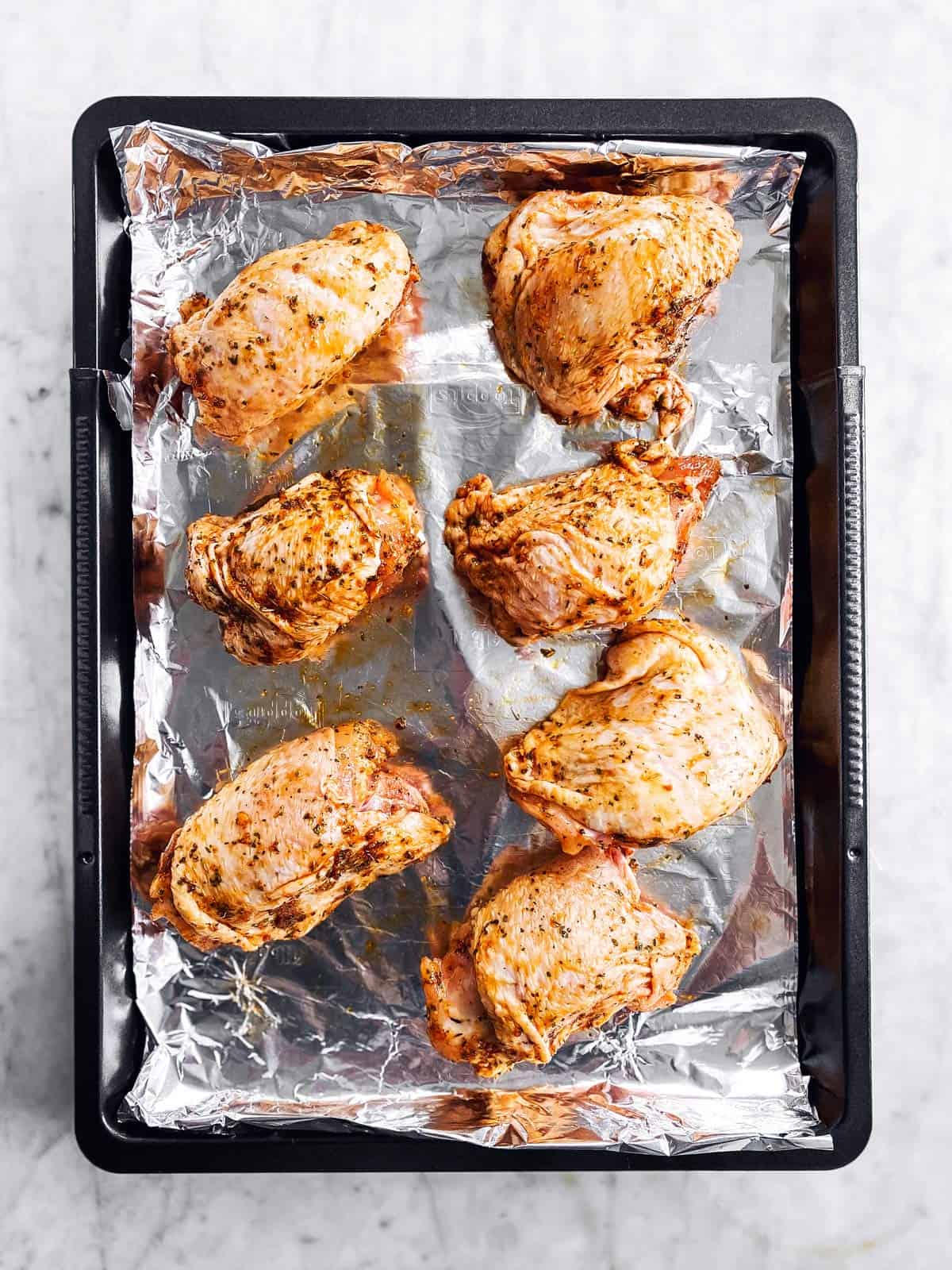 4. Dot the chicken thighs with butter, if using, and then bake in the oven for 20 minutes.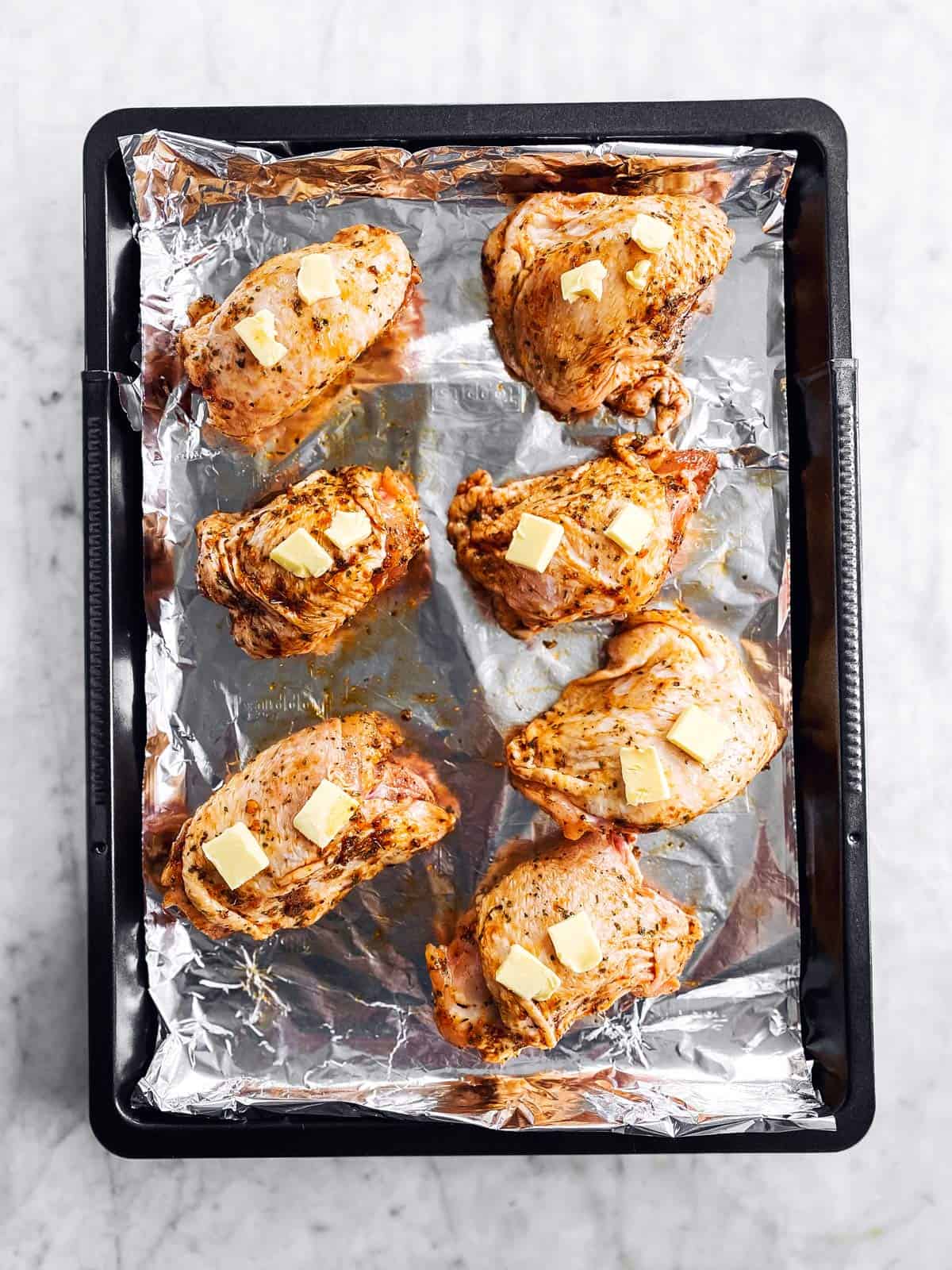 5. Baste the chicken with the emerging juices. Return to the oven to continue baking. Baste again 10 minutes later, then finish baking until the chicken is done.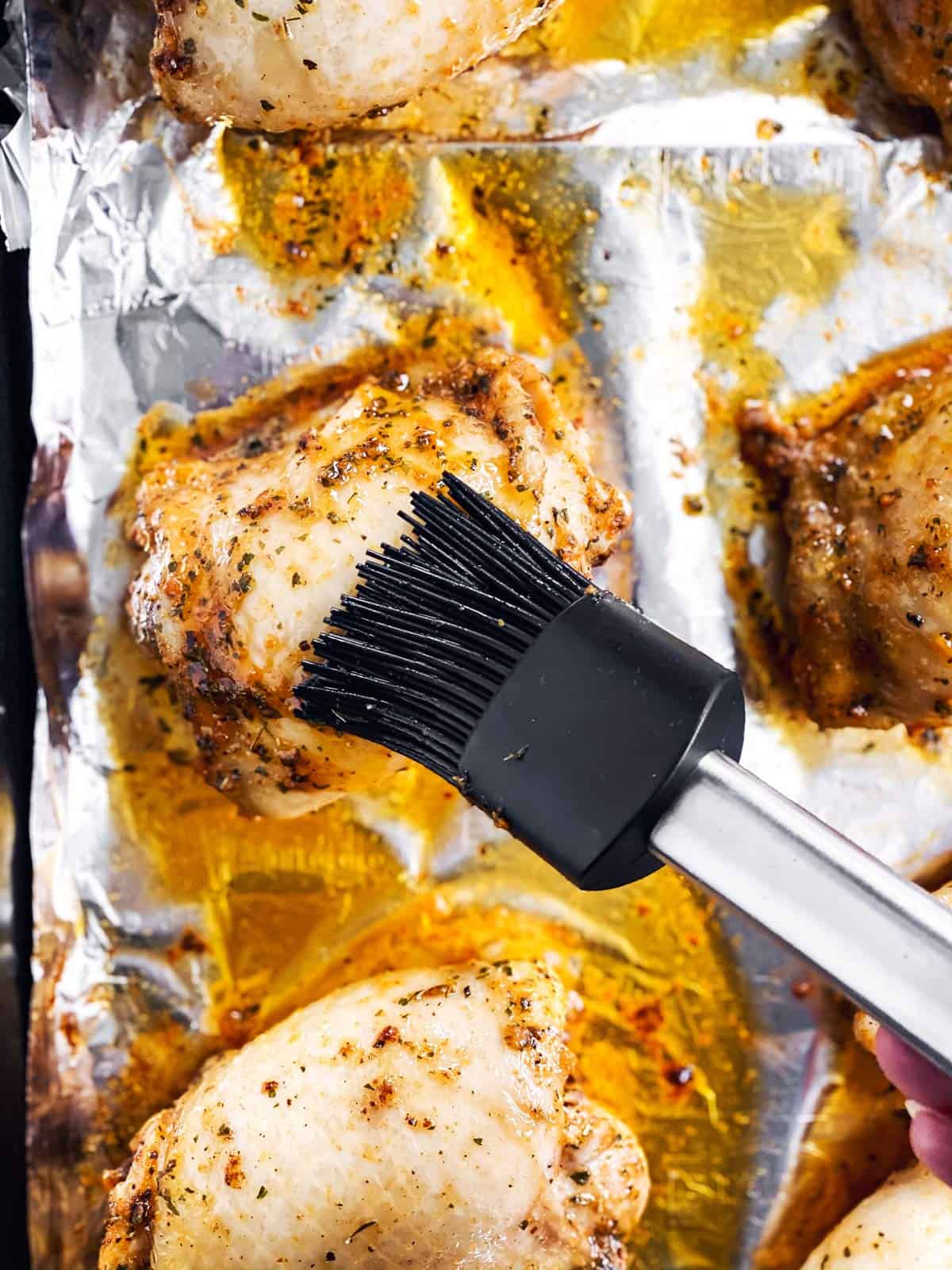 6. You can finish the chicken under the broiler for 1-2 minutes for some crispiness. Just watch it so it doesn't burn!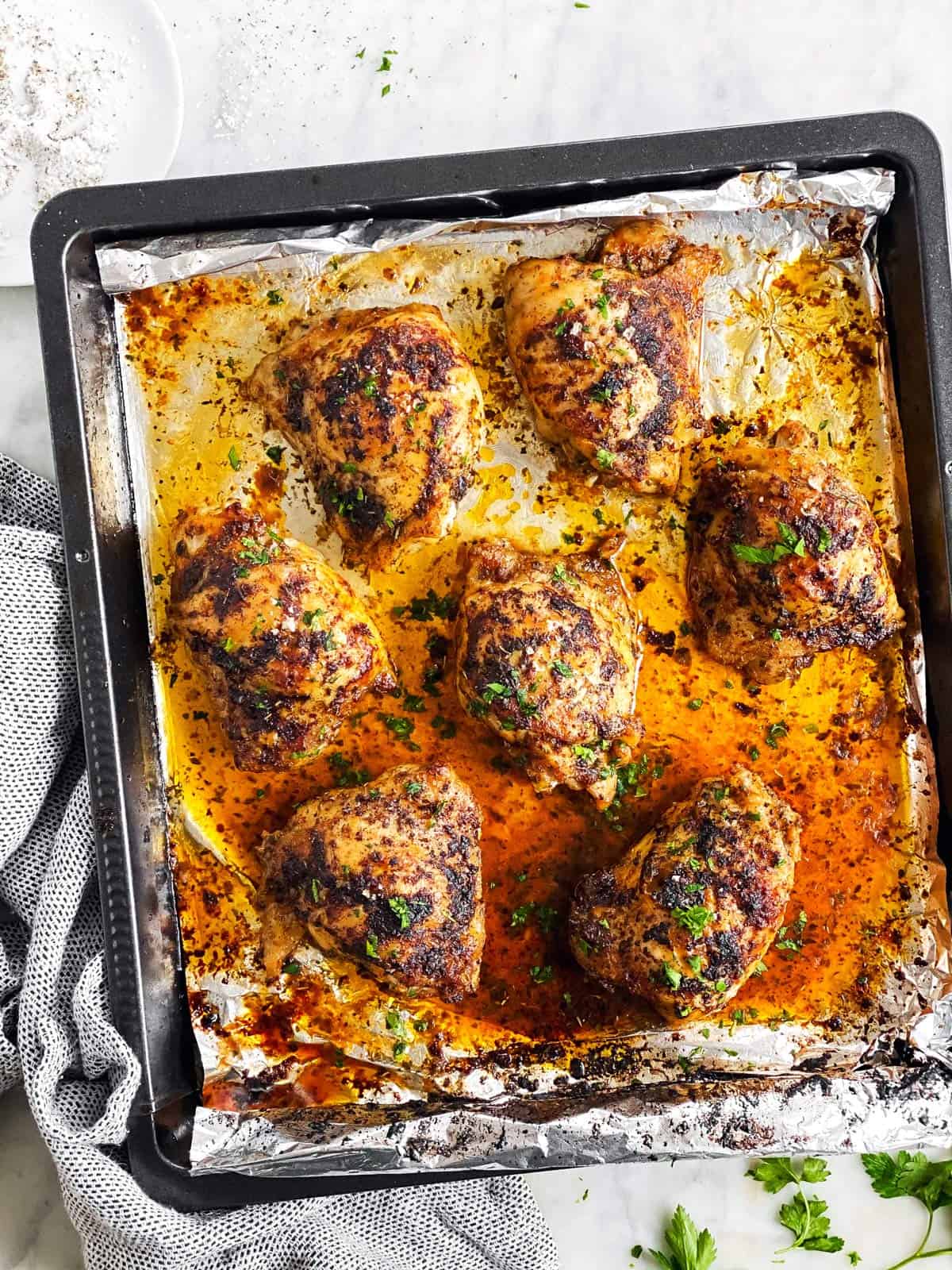 Recipe tips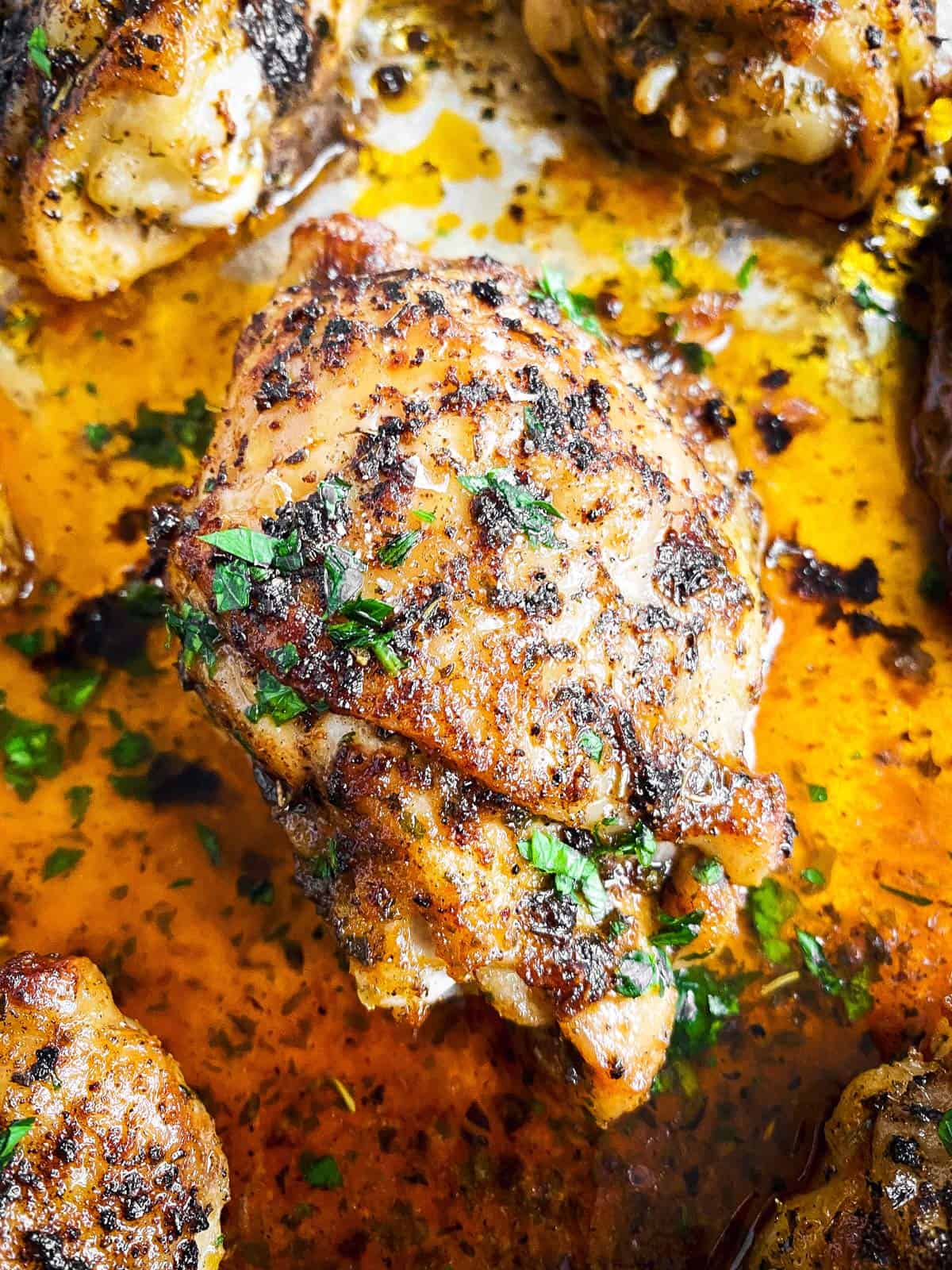 Serving ideas
This is such a great recipe for a family meal. You can customize the side dishes to fit everybody's needs and preferences – this is even great if you're on a low carb or keto diet yourself, just skip the starchy sides.
Here are some of our favorites:
Starchy sides
Vegetable sides
Salad sides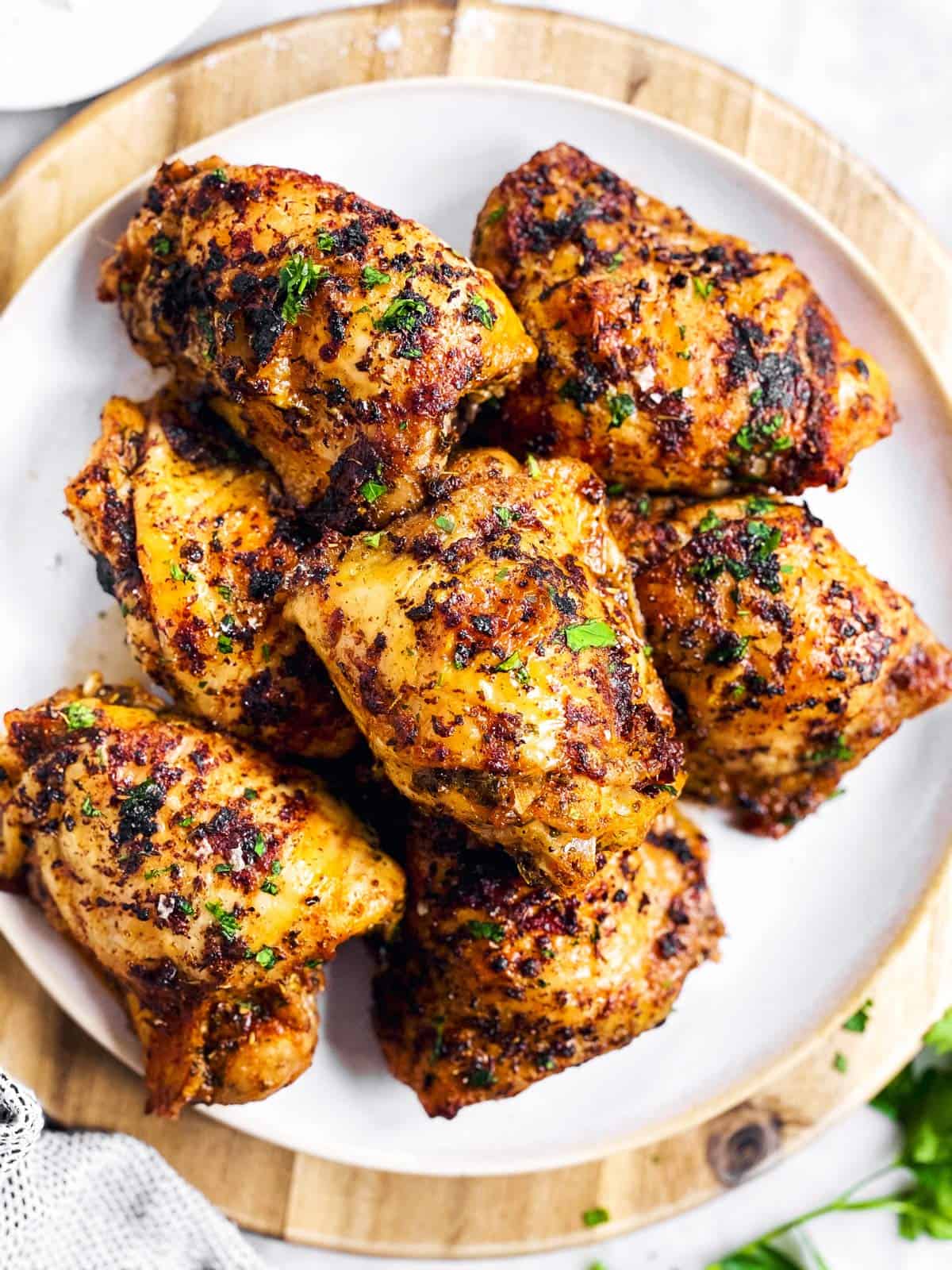 More easy chicken thigh recipes
PS If you try this recipe, please leave a review in the comment section and add a star rating in the recipe card – I appreciate your feedback! Follow along on Pinterest, Facebook or Instagram.
Printable recipe
Printable Recipe Card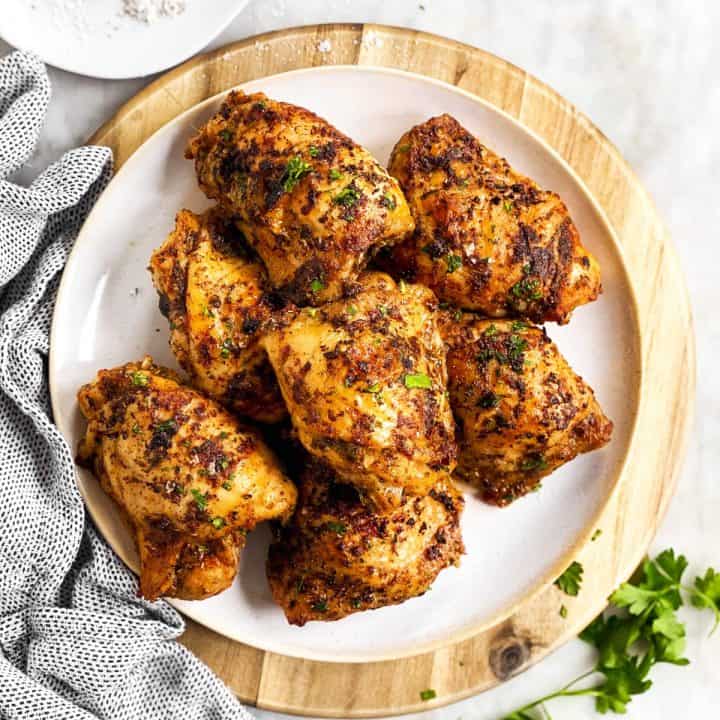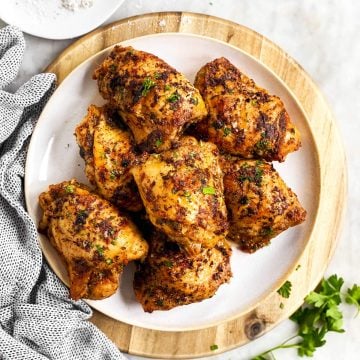 Oven Baked Chicken Thighs
These Oven Baked Chicken Thighs are easy to make and come out so juicy and flavorful! Great for a healthy family dinner, and keto/low carb friendly, too.
made it? tap the stars to add your rating!
Ingredients
2

tablespoons

olive oil

2

teaspoons

garlic powder

2

teaspoons

onion powder

1

teaspoon

ground paprika

1

teaspoon

Italian seasoning

1

teaspoon

dried parsley

2

teaspoons

salt

½

teaspoon

black pepper

2

pounds

chicken thighs

6-8 pieces, patted dry

1

tablespoon

butter

diced
Instructions
Prep: Preheat oven to 400°F. Line a rimmed baking sheet or large rimmed pan with foil and place in the oven as it heats up (you want the pan to be hot when you add the chicken).

Seasoning: Combine olive oil and all seasoning in a large bowl until a paste forms.

Season chicken: Place chicken thighs in bowl with seasoning (work in batches if bowl doesn't hold all of the chicken) and toss to coat. Remove each thigh individually, rubbing the seasoning into the skin.

Bake: Place chicken thighs on heated pan (careful, hot!); dot with butter. Bake in the hot oven for 20 minutes. Carefully remove and baste chicken with emerging juices from the pan. Return to the oven and bake for 10 more minutes, then baste again. Finally, finish baking for 5-15 minutes, until chicken reaches an internal temperature of 165°F.
Want to save this recipe?
Create an account for free to start your personal recipe box. Save any recipe by tapping the heart in the bottom right corner.
Join Now
Notes
Ingredient notes
Dried herbs: You can use all Italian seasoning or all dried parsley if you don't have both on hand. Dried oregano would be another substitute that works quite well.
Oil: I prefer using olive oil here, but feel free to use any vegetable oil you use in your cooking.
Butter: This is entirely optional for a touch more flavor/browning/juiciness. Just leave it out if you need your chicken thighs to be dairy free!
Recipe tips
Make sure to rub the seasoning paste well into each chicken thigh to keep the seasoning on the chicken.
In case you don't want to touch the raw chicken, OR the fat and juices from the chicken wash away a lot of the seasoning during baking:Combine ¼ teaspoon salt, ½ teaspoon garlic powder, ½ teaspoon onion powder, ¼ teaspoon Italian seasoning, ¼ teaspoon dried parsley, ½ teaspoon ground paprika and pepper to taste. Sprinkle evenly over the chicken thighs after the second basting, then finish baking.
The internal temperature of the chicken must reach 165°F before consuming. Be sure to check with a meat thermometer before removing the chicken from the oven, as each oven bakes differently/each chicken thigh is sized differently and may not use the exact baking time given in the recipe. See the USDA Minimum Safe Cooking Temperatures Chart.
Please use a rimmed pan or a baking dish, as there will be a lot of juices emerging from the chicken during baking.
Nutrition
Serving:
1
serving
Calories:
347
kcal
Carbohydrates:
2
g
Protein:
21
g
Fat:
28
g
Saturated Fat:
8
g
Cholesterol:
131
mg
Sodium:
892
mg
Potassium:
290
mg
Fiber:
1
g
Sugar:
1
g
Vitamin A:
323
IU
Vitamin C:
1
mg
Calcium:
18
mg
Iron:
1
mg
Nutrition is an estimate.
More recipe information