This Creamy Tuscan Chicken recipe is easy to make and comes out so juicy and flavorful!
The browned chicken simmers in a creamy garlic sauce with sun-dried tomatoes, then you'll finish the dish with parmesan cheese and spinach for the ultimate family dinner.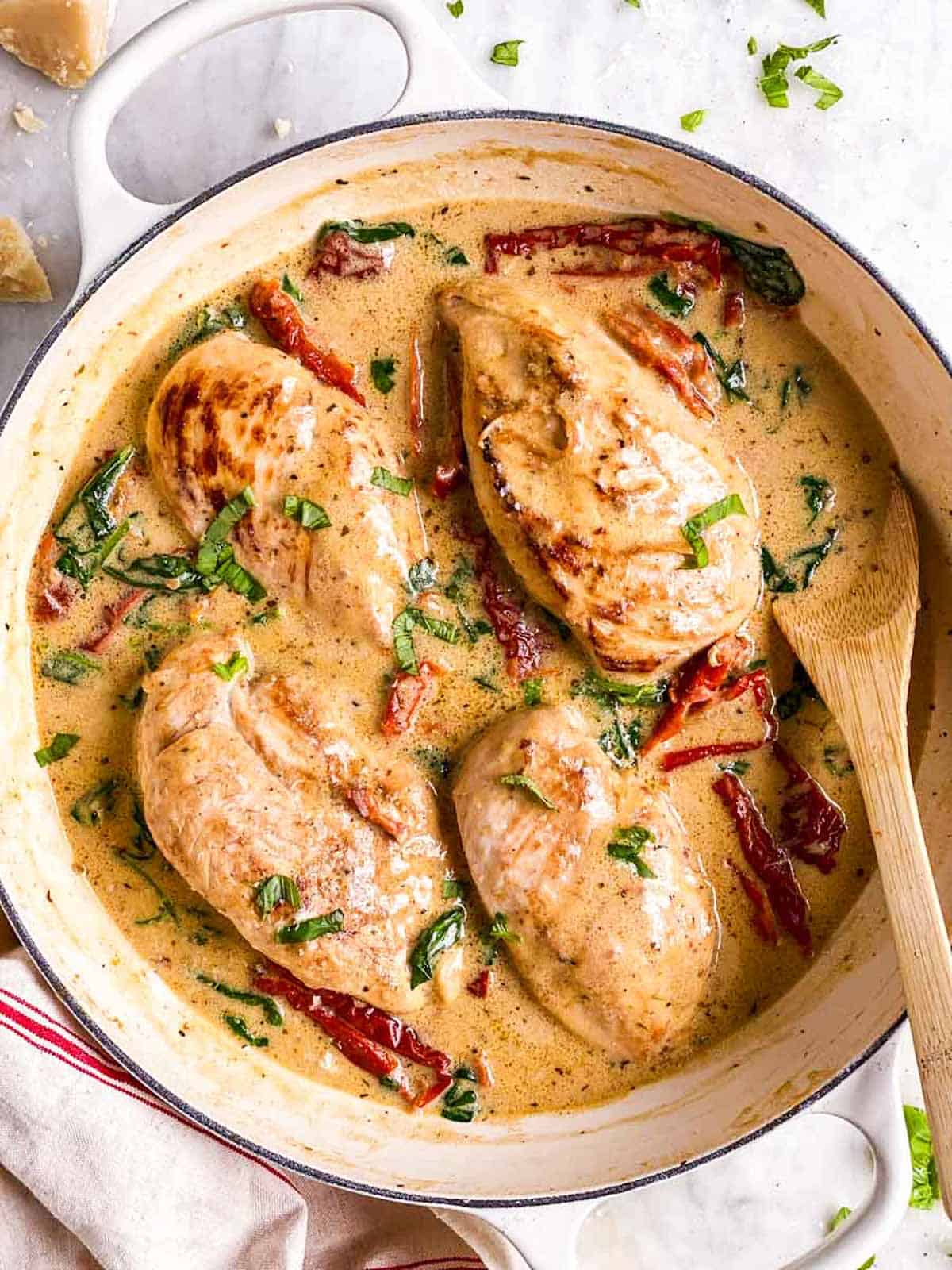 Chicken breast dinners can get really repetitive – so I'm a firm believer that you can never have too many chicken recipes. And this one is a favorite for sure!
The sauce comes out creamy and flavorful and is great served over pasta or rice – which is perfect for an easy family dinner.
This dish is easy, but it is definitely company worthy! If you're entertaining guests for dinner and need a simple option that's still going to wow, this is your recipe.
Thanks to only browning the chicken first, then simmering it in the sauce to cook it through, it comes out juicy and never dry.
Ingredients you'll need
Here is a visual overview of the ingredients in the recipe. Scroll down to the printable recipe card at the bottom of this post for quantities!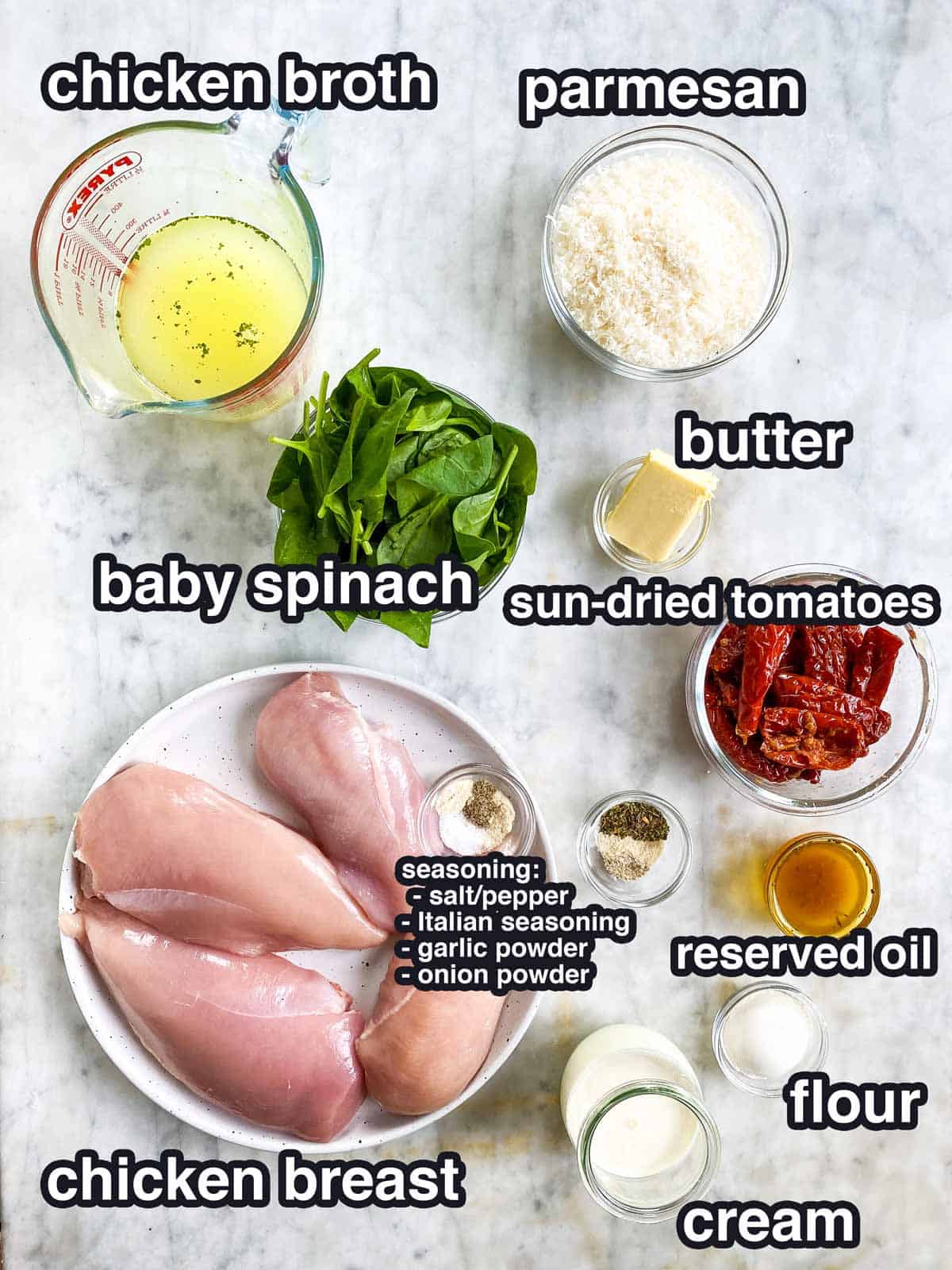 Ingredient notes
Chicken: Feel free to use chicken thighs in place of the breast in this recipe. Both bone-in and boneless work; although bone-in thighs need to cook for around 20-30 minutes.
Sun-dried tomatoes: I prefer using sun-dried tomatoes packed in oil, because they are softer and I use the oil in cooking.

If you're using "dry" sun-dried tomatoes, I highly recommend soaking them in just-boiled water for 10 minutes before adding to the recipe. Use the soaking liquid in place of the chicken broth the recipe calls for, and use olive oil in place of the reserved tomato oil. This will give you a similar flavor boost.

Cream: I used heavy cream, although half-and-half or even evaporated milk work just fine. Do not use regular milk, as it tends to split when used in this recipe.
Parmesan: I used freshly grated (I grate it on the microplane and it melts into the sauce instantly!). If you're using pre-grated parmesan cheese, it may melt a little less well because they often contain separating agents to keep the cheese from clumping.
Baby spinach: Feel free to use frozen leaf spinach. De-frost it before adding and squeeze it dry to keep it from releasing too much liquid into the sauce.
How to make Tuscan Chicken
1. Brown seasoned chicken in reserved oil. It doesn't have to be cooked through yet, just nicely browned on the outside. Set it aside on a plate.
2. Start the sauce. Melt the butter in the skillet (no need to drain or wipe it!) over medium heat. Take it off the heat and stir in the flour. Return to medium-low heat and cook for 1-2 minutes, until frothy.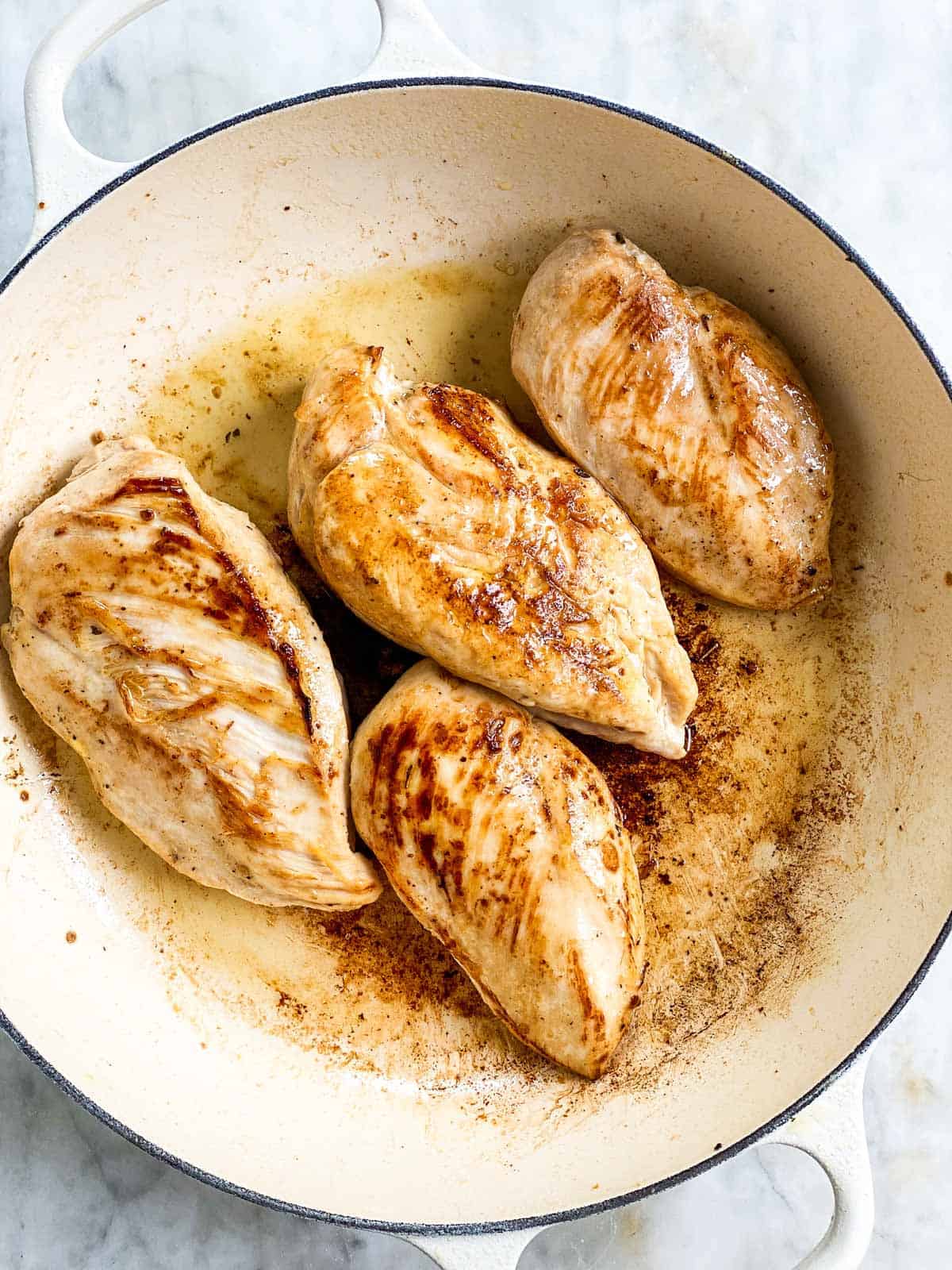 3. Make the sauce. Whisk in the broth, making sure no lumps form. Stir in the cream, seasoning and sun-dried tomatoes.
4. Cook chicken. Allow the chicken to gently cook in the sauce over medium-low heat, covered with a lid, stirring from time to time, until it reaches an internal temperature of 165°F.
5. Finish: Remove the chicken to a plate and keep it warm. Add the spinach and parmesan to the sauce and simmer over medium heat until the spinach has wilted. Check for seasoning, then serve with the chicken.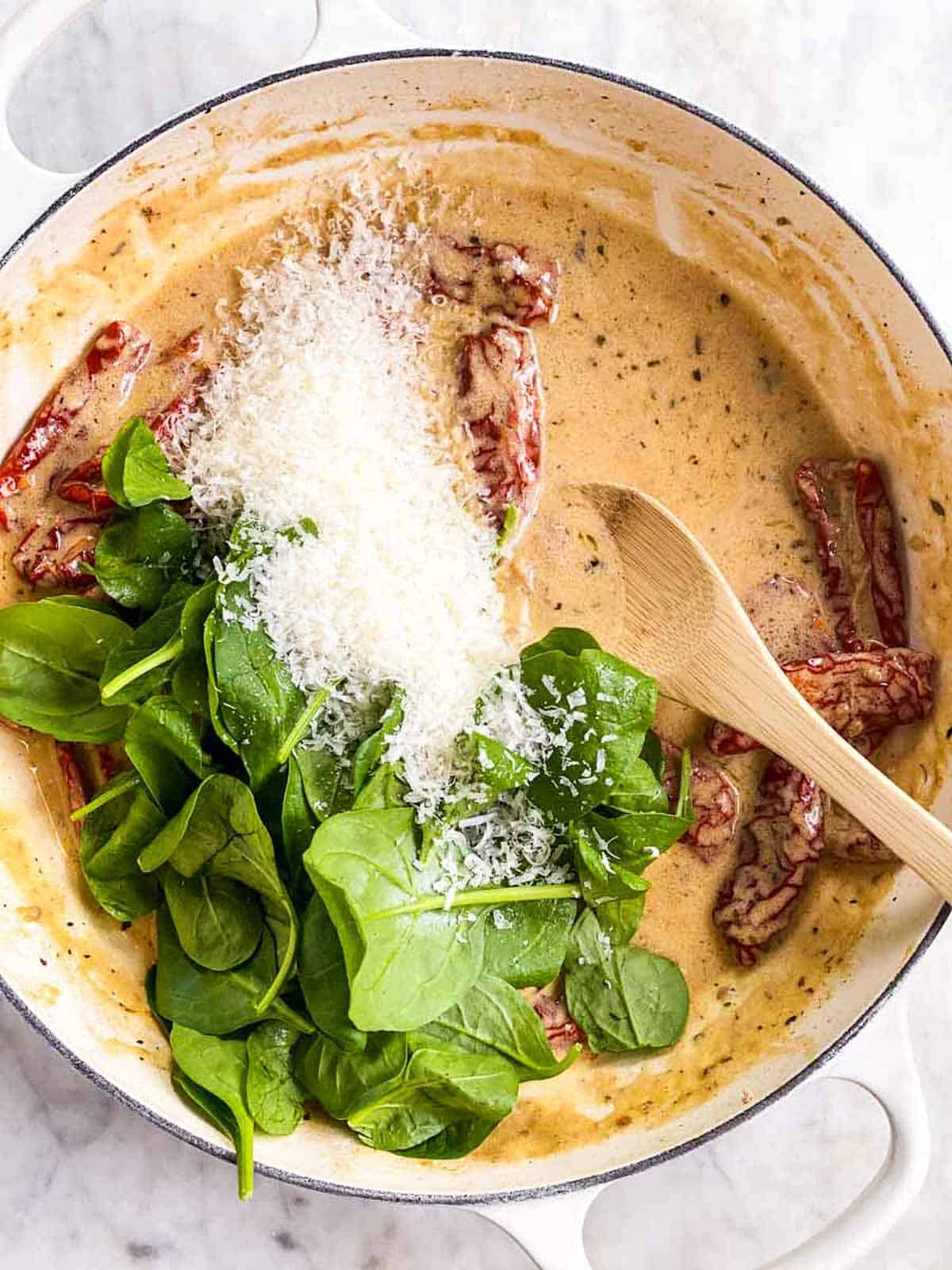 Recipe tips
The chicken doesn't need to cook through when you initially brown it. It will simmer in the sauce later – this helps to keep it from drying out and yields super juicy meat.
Careful when cooking the flour/adding the broth. You do not want the flour to burn, and you do not want any lumps to form. Check out my post on béchamel sauce for the detailed steps to make a sauce with a roux (you are not making a classic béchamel in this recipe, but the steps for making the roux (cooking flour in butter) and then whisking in a liquid use the exact same technique).
Only use medium-low heat when simmering the chicken in the sauce. Since you're adding a lid, you have less direct control over how vigorously the sauce cooks. It scorches on the bottom easily if you cook it over too high a heat, so please do stick to gentle heat (the sauce should be visibly simmering/bubbling, but nothing vigorous).
This recipe yields a sauce with a creamy, but definitely saucy consistency. I have seen some recipes that have a very, very thick sauce. My husband especially prefers a silky sauce that's not too stodgy. You can easily alter the consistency to your family's preference. Use just 1 cup of chicken broth for a thick sauce (there will also be less of it though), or thin it out at the end by adding more broth or cream until it suits your taste.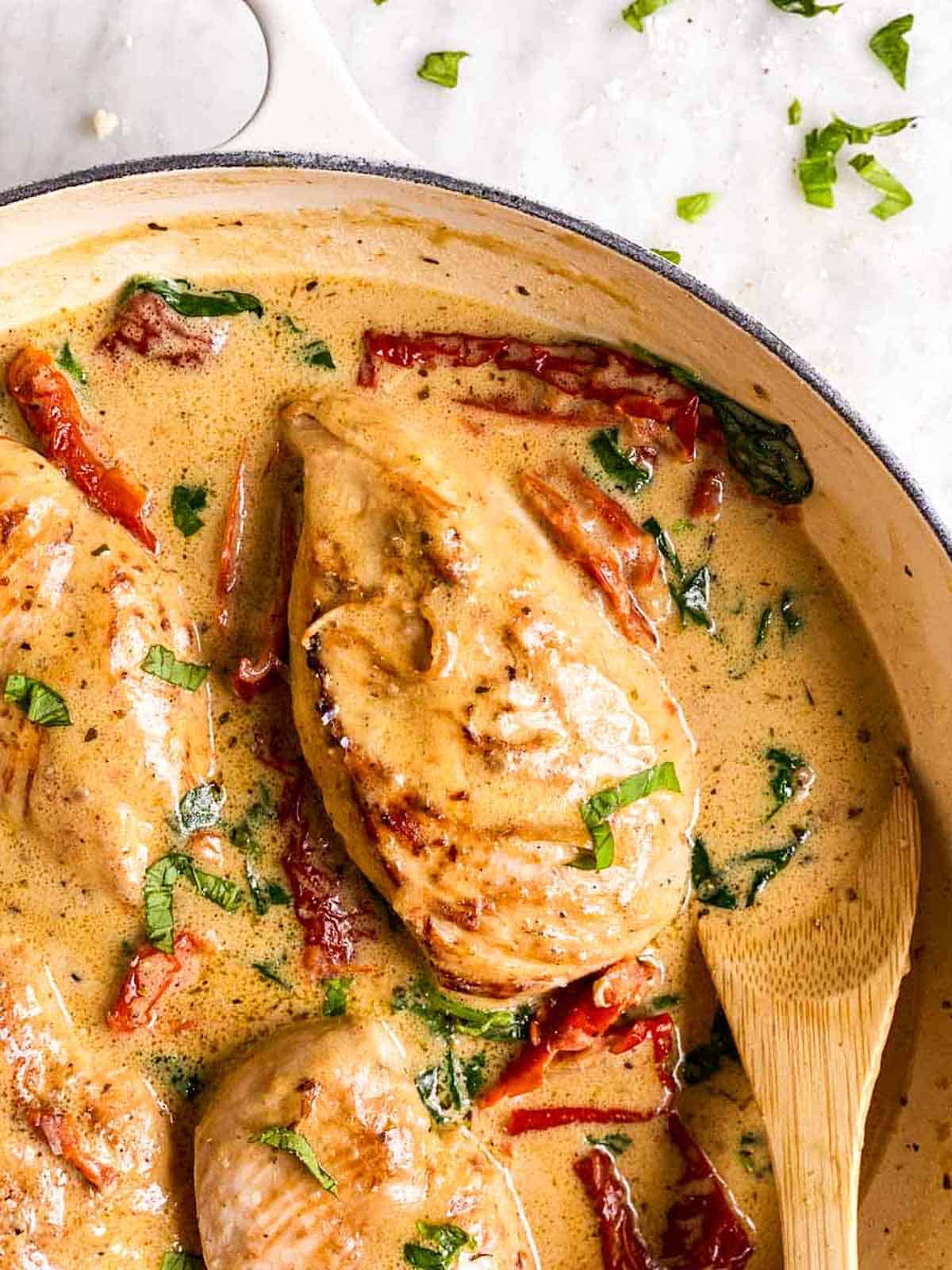 Serving ideas
Starchy sides
We enjoy this chicken very much with pasta (learn how to cook pasta if you've never done it before!) or over rice. You definitely need something to mop up all of that sauce!
If you like it, polenta is also a great side dish for this – especially when it's cold outside.
Garlic bread is also a favorite to serve with Tuscan Chicken in our home. In this case, we will probably skip any other starchy sides.
Vegetable sides
Tips for leftovers
Using leftover spinach is a hot debate, and I have written a little about it in my creamed spinach recipe. If you're comfortable with re-heating spinach, leftovers of this dish can be easily repurposed.
Keep leftovers refrigerated in an airtight container for up to 3 days. To reheat, here are my favorite ideas:
Tuscan Chicken Pasta: Dice the chicken, then gently reheat it in the sauce with about ½ cup of extra broth added. Toss right in the skillet with cooked linguine, tagliatelle or spaghetti – and you've got a great, quick pasta dish!
Tuscan Chicken Casserole: Dice the chicken, then toss everything with ½ pound cooked penne or spiral pasta shapes. I highly recommend either adding a few more splashes or cream, or some diced cream cheese to keep the casserole from drying out. Sprinkle with grated parmesan cheese and shredded mozzarella, then bake at 375°F until bubbly (about 20-30 minutes).
Mediterranen Chicken Pot Pie: Use your leftover chicken in a pot pie filling. Just dice up the chicken and tomatoes, then use in my recipe for turkey pot pie. Use Italian seasoning in place of the seasoning the recipe calls for, and use frozen chopped green beans in place of the mixed vegetables.
Please note: The links to my favorite skillet right below are affiliate links and I earn a commission for purchases made after clicking through.
PS If you try this recipe, please leave a review in the comment section and add a star rating in the recipe card – I appreciate your feedback! Follow along on Pinterest, Facebook or Instagram.
Printable recipe
More chicken breast recipes
More quick dinner ideas